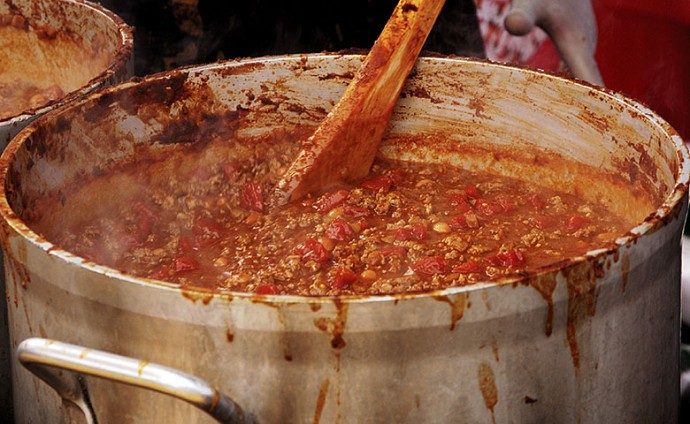 This is a hearty recipe, bursting with flavour that will keep you warm and your energy up as the degrees enter single digits. Recipe compliments of Deadly Vibe journalist, Jacob Barton.
Serves 4.
Ingredients:
• 500 grams beef mince
• 1 litre beef stock
• 2 large onions (chopped)
• 3 garlic cloves (finely chopped)
• 2 fresh tomatoes (chopped)
• 1 red capsicum (chopped)
• 1 long red chilli (remove seeds and finely chop)
• Button mushroom (chopped) – as many or as few as you'd like depending on your taste
• 2 tablespoons of tomato paste
• 1 teaspoon ground coriander seeds
• 1 teaspoon paprika
• 1 tablespoon cumin
• 1 teaspoon sugar
• 2 pieces dark chocolate
• Sour cream
Method:
1. Heat oil over a medium heat in a large saucepan and add mince and brown. Add onions, garlic, chilli, mushrooms, and capsicum and cook for a further 5-6 minutes.
2. Pour in beef stock and bring to the boil. Add tomatoes, tomato paste, coriander, paprika, cumin, sugar, and chocolate and give it a good stir.
3. Boil for 10 minutes stirring consistently. Turn down heat and let simmer. Simmer – stirring regularly – for at least an hour and let the stock reduce (you can allow it to simmer for as long as you want. I usually simmer for four hours as this allows the flavours to infuse).
4. Serve with rice, corn chips or by itself and add a dollop of sour cream.
NOTE: For an even more intense hit of flavour, put the chilli con carne in the fridge overnight and serve it for dinner the next day.