The Yung Warriors (cousins Tjimba Possum Burns and D-Boy – Narjik Day Burns) are one of our leading cultural music ambassadors. They've supported the likes of Akon, 50 Cent, The Game and Outlawz, as well as performing regular community gigs in their hometown of Melbourne.
Their latest album Standing Strong has already delivered the group the VIPA 'Song of the Year' with the title track and the most played community radio track with Family Love. Yung Warriors also won a Deadly Award for Best Indigenous Hip Hop Artist of the Year in 2012.
But music aside, their Warrior Bolognese is just the thing to cook up – healthy, quick and Diabetic Friendly!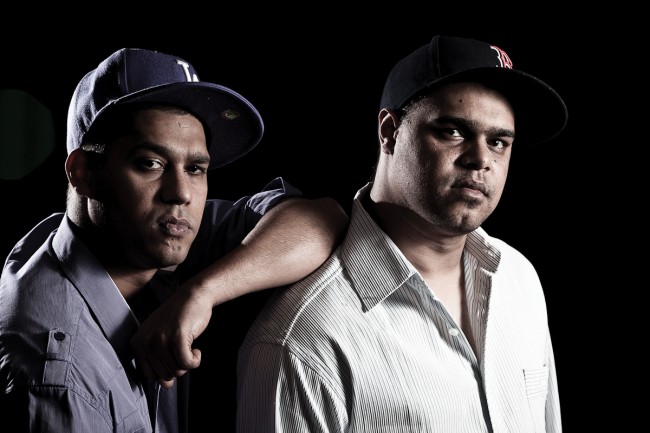 Ingredients (serves the family)
* 1 tablespoon olive oil
* 1 medium brown onion, finely chopped
* 1 medium carrot, peeled, finely chopped
* 1 stick celery, trimmed, finely chopped
* 2 garlic cloves, crushed
* 500g beef mince
* 1/3 cup tomato paste
* 2 x 400g cans diced tomatoes
* 1 teaspoon dried oregano
* Large pinch ground nutmeg
* 2 teaspoons SPLENDA® Granular
* 500g thin spaghetti
* Grated or flaked parmesan cheese, to serve
Method
1. Heat oil in a large saucepan over medium-high heat. Cook onion, carrot, celery and garlic, stirring, for 5 minutes or until softened. Add mince. Cook, breaking up with a wooden spoon, for 6 to 8 minutes or until browned.
2. Add tomato paste, tomatoes, oregano, nutmeg, SPLENDA® and 1/2 cup cold water. Bring to the boil. Reduce heat to low. Simmer, uncovered, for 20 to 30 minutes or until thick. Season with salt and pepper.
3. Meanwhile, cook pasta in a large saucepan of boiling, salted water, following packet directions, until tender. Drain.
4. Divide pasta among serving bowls. Spoon over sauce. Serve, topped with cheese.