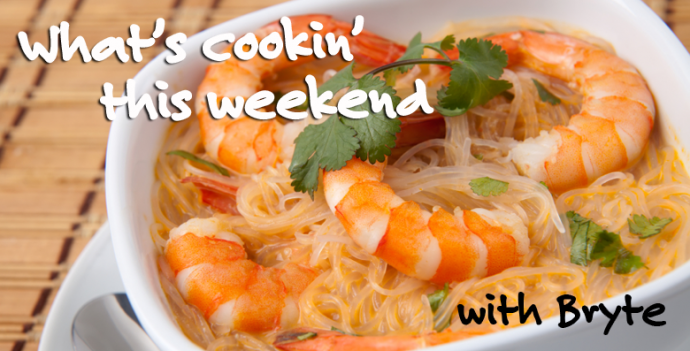 This week's recipe for Seafood Laksa comes from MC Bryte, an established hip hop artist based in Perth, Western Australia. Since his teenage days running around the streets of Brisbane as a graffiti artist, Bryte has made leaps and bounds towards bettering his life and establishing himself as a renowned MC.
"Without hip hop I wouldn't be where I am today, if my music can inspire and change lives the way I was inspired to change mine, then that's something worth fighting for," he says.
Ingredients:
• 250g rice vermicelli
• 20ml (1 tbs) peanut oil
• 1/4 cup good-quality Laksa paste*
• 750ml (3 cups) fish or vegetable stock
• 400ml coconut milk
• 750g green prawns, de-veined, shelled, tails on
• 250g scallops
• 100g deep-fried tofu*, quartered
• 100g bean sprouts, trimmed
• 1/2 cup each fresh coriander, Vietnamese mint* and Thai basil* leaves, plus extra to serve
• 1 small red chilli, seeds removed, cut into thin strips
• 2 tbs chopped peanuts, to serve
• Fried Asian shallots*, to garnish
Method:
1. Place the vermicelli in a bowl, cover with boiling water and leave for 10 minutes to soak. Drain and set aside.
2. Place oil in a wok over medium-high heat. Add the Laksa paste and stir-fry for 1 minute. Stir in the stock, bring to the boil, then add the coconut milk and simmer for 2 minutes. Add the green prawns, scallops and deep-fried tofu, and cook for 2 minutes before adding 1 teaspoon of salt.
3. Divide the noodles between serving bowls, top with the bean sprouts and the fresh herbs. Pour the Laksa soup over the noodles, dividing the seafood equally among the bowls. Garnish with slices of chilli, peanuts, shallots and the extra fresh herbs.