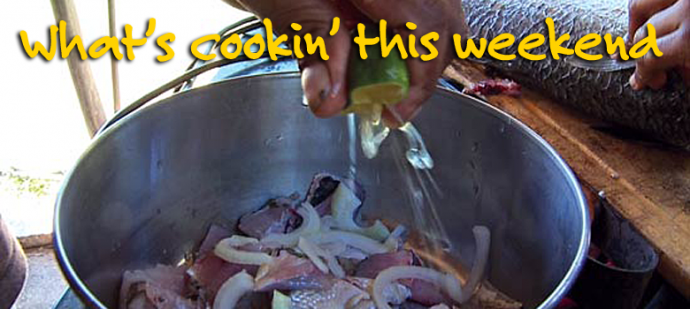 Made from fresh fish fillets pickled in vinegar, namas is fresh, tasty and simple to make. You can even make it while you're out fishing; just bring the ingredients you need readymade from home, some ice and an esky, and add some fresh fish caught right from the ocean – a delicious and healthy snack!
Serves 4
Ingredients
• 1 x mullet cut into thin pieces (you could also use queenfish fillets, trevally or another pelagic species)
• 1 cup Vinegar
• Ginger & garlic
• 1 lime (or lemon)
• 2 fresh chillies
• 1-2 onions
• Salt and pepper
Method
1. Finely dice ginger and garlic, and combine with vinegar, enough to cover all ingredients
2. Slice the onion to make circles, and place in bottom of dish
3. Cover the onion circles with a good serving of black pepper and a sprinkling of salt
4. Slice the fish fillets thin so they cook in the vinegar quickly, and lay the fish on top of the onion rings.
5. Dice chillies and sprinkle over the fish and other ingredients
6. Slice lime (or lemon) thinly and layer them on top of all the ingredients
7. Cover the ingredients with vinegar to soak in the fridge or an esky with ice and chill for 30-45 minutes.