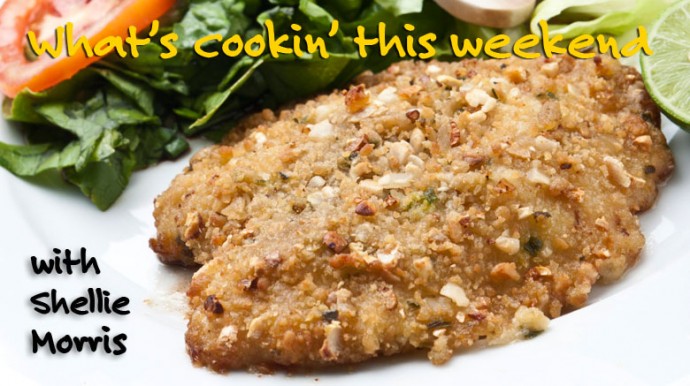 Singer, songwriter and Aboriginal language advocate Shellie Morris thinks there's nothing as good as catching your tucker.
"With family in Borroloola and Katherine, Barramundi is a real favourite with all of us," she says. "Here's one of my favourite recipes, and it's best to have it with a big salad or some vegies."
To make the crust:
½ cup macadamia nuts
½ dried breadcrumbs
1 tbspn roughly chopped parsley
4 tbspn softened butter.
4 x Barramundi fillets
Method
Pre-heat the oven to 200 degrees (if you're a kid, get mum, dad or a gran to help you).
Smash the macadamias with the breadcrumbs, some salt and pepper in a big bowl or a food processor. When the nuts are still pretty rough, add in the butter and parsley and keep mixing it all up.
Heat a big pan with about a tablespoon of olive oil or other healthy oil.
Pop some salt and pepper on the Barra fillets and then put the flesh side down in the pan and cook until light brown (about 2 mins). Flip the fillets over and divide the crust evenly across all the fillets.
Transfer the entire pan to the oven and bake for about five minutes or until the fish is just cooked through and the crust is a light, golden brown.
Serve up with a big, fresh salad or some steamed vegies.