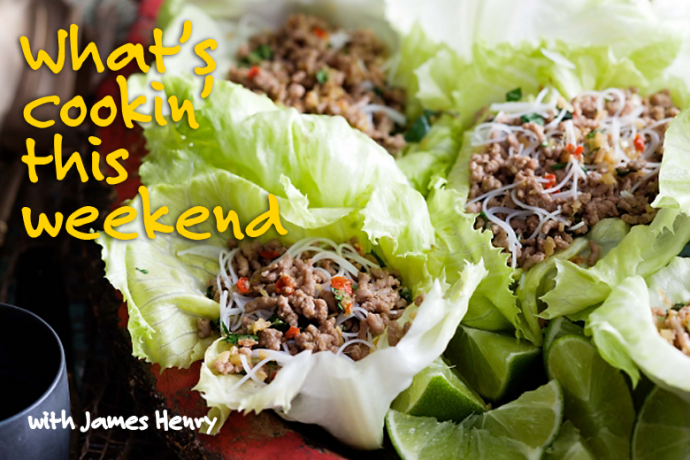 Koori singer James Henry, 34, from Melbourne is known to many as a singer/songwriter in his own right as well as being the grandson of Jimmy Little – and he has certainly inherited Jimmy's musical talent. He presents this week's What's Cookin This Weekend.
"Larb Gai is my favourite meal to cook for friends or even for myself when I have the time, because it is healthy, very tasty and easy to make. Quite similar to making a bolognese sauce or chilli con carne for its simplicity," James says.
"You can vary this recipe to make it more or less spicy depending on what kind, and how many, chillies you use, as well as adding other herbs and spices such as ginger, coriander, basil, etc – depending on your taste. These are the basics to get you a tasty meal as easy as possible.
Ingredients
Serves: 4
• 2 tablespoons sunflower oil
• ½ finely stalk lemon grass, chopped
• 5 fresh red chillies (hot or mild), chopped
• 5 cloves garlic, chopped
• 500 g chicken mince
Juice
• 3 lemon's juice
• 3 tablespoons Asian fish sauce
• 2 tablespoons of sugar
• 1 medium red onion, thinly sliced
• 1 bunch of mint leaves
• 1⁄2 small head iceberg lettuce, leaves separated.
Method
Prep: 10 minutes | Cook: 6 minutes
1. Heat oil in a large nonstick frying pan over medium heat. Add lemon grass, chillies and garlic. Cook for 3 minutes, stirring. Add chicken and cook, stirring for 5 minutes or until chicken is cooked.
2. Remove from heat and allow to cool slightly. Combine lemon juice, fish sauce and sugar. Stir juice until most of sugar has dissolved, then pour over chicken.
3. Add onion and mint and toss gently. Scoop chicken mince, etc onto lettuce leaves to form parcels or cups for eating.
Tip
This meal can be done with beef or pork mince as well. Make sure you use the leanest mince available for best results.
Thai food is all about combining sweet, salt, sour and spice in the right balance to make a successful meal. Use your tastebuds to judge, especially with the lemon juice/fish sauce/sugar mixture.
Serve with rice, grated carrot and finely sliced cabbage to create a well -balanced meal.