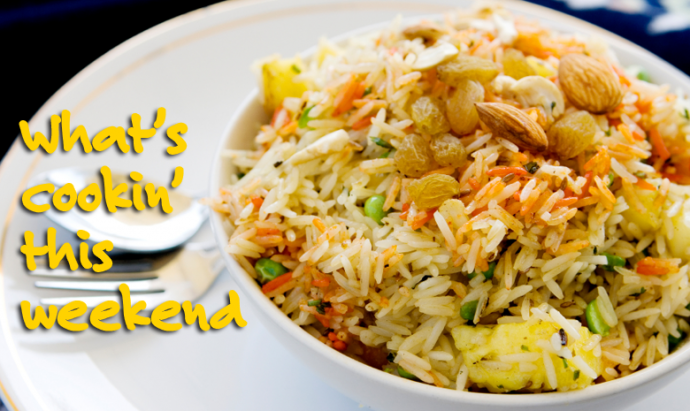 Biriyani originates in the Moghul period of Indian history. This delightful and colourful vegetarian version, ideal as a festive dish, contains zucchini, lima beans, eggplant, red peppers, cashews, raisins, and spices.
PREPARATION TIME: 5 minutes
COOKING TIME: 25-35 minutes
BAKING TIME: 30 minutes
YIELD: enough for 6-8 persons
Ingredients
2 cups (500 ml) basmati or other long-grain white rice
4 cups (1 litre) water
3 teaspoons (15 ml) salt
21/2 teaspoons (12 ml) turmeric
4 tablespoons (80 ml) ghee or oil
1/4 teaspoon (1 ml) cardamom seeds
11/2 teaspoons (7 ml) black mustard seeds
2 teaspoons (10 ml) poppy seeds
1f4 teaspoon (1 ml) cayenne pepper
1 teaspoon (5 ml) garam masala
1 teaspoon (5 ml) ground coriander
1 large eggplant peeled and diced into 1.25 cm (1/2-inch) cubes
6 ounces (170 g) melted butter
1 large zucchini diced into 1.25 cm
(1I2-inch) cubes
1 large red pepper diced into
1.25 cm (1/2-inch) cubes
2 cups (500 ml) tomatoes, peeled and chopped
1 teaspoon (5 ml) sugar
1 cup (250 ml) cooked lima beans
2/3 cup (165 ml) slivered raw almonds
2/3 cup (165 ml) broken or halved raw cashews
2/3 cup (165 ml) raisins
Method
1. Wash, drain, and dry the rice.
2. Boil the water, 11/2 teaspoons (7 ml) salt and 11/2 teaspoons (7 ml) turmeric in a 4-litre/quart saucepan over moderate heat.
3. Heat half the ghee or oil in another 2-litre/quart saucepan over moderately-low heat. Saute the cardamom seeds and the rice in the hot ghee for 2 minutes or until the grains turn whitish. Add the boiling water. Stir, raise the heat, and bring the water to a full boil. Immediately reduce the heat to low, cover with a tight-fitting lid, and gently simmer, without stirring, for 15-20 minutes. Remove from the h eat, allowing the grains to become firm.
4. Heat the remaining ghee or oil in a medium-sized pan or wok over moderately high heat. Saute the mustard seeds in the hot ghee and, when they crackle, add the poppy seeds, the cayenne, garam masala, coriander, eggplant pieces, and half the butter. Stir-fry the eggplant for about 3 minutes.
5. Add the zucchini, red pepper, tomato pieces, remaining salt, and sugar. Simmer the vegetables until just tender. Add the lima beans and remove from the heat.
6. Spoon half the rice into a large buttered oven-proof casserole dish and spread evenly. Spread the vegetable mixture on top.
7. Heat the remaining butter in a small pan over moderate heat. Saute the nuts in the hot butter until they turn pale golden brown. Add the raisins and stir-fry until they swell and the nuts are golden brown. 8. Combine this mixture with the remaining rice and spread on top of the vegetable layer. Place a lid on the casserole dish and bake in a preheated moderate oven (180°C/355°F) for 30 minutes. Serve hot.