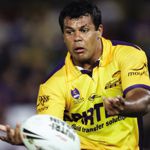 Deadly Vibe Issue 98 April 2005
One slippery customer
With players like Dean Widders on side, are the Eels the team to watch in 2005?
It was rugby league immortal Arthur Beetson who first spotte d t he exceptional talent of Dean Widders, back when Dean was a teenager playing in his home town of Armidale in regional New South Wales.
Before long, Dean was suiting up with the Sydney City Roosters in the NRL's Premier Division.
But it wasn't until he moved to the Eels in 2002 that this powerful lock forward really began to make a name for himself as one of the NRL's most explosive impact players.
Dean has continually improved during his three successful seasons at Parramatta, and so 2005 is shaping up to become one of the biggest seasons of his career so far.
"Our preparation for the season has been pretty good," says Dean, who spoke to Deadly Sounds on the eve of the new season.
"All our players are injury-free, which hasn't happened for a long time at Parramatta. Our fitness levels are as high as they can be an d t he morale in the camp is pretty good."
After showing enormous potential over the past couple of years, all that's left for Dean to do is to take his game to the next level, and hopefully a clean run with injuries in 2005 will seem him achieve just that.
"This season I definitely want to play every game and be consistent in every game," Dean says. "Hopefully, on the representative scene, I can try to crack a spot on the Country Origin team which would be great for me.
"But overall, I just want to play as many minutes as I can and be able to get over the niggling injuries. That's the goal I set for myself at the start of every year."
While ill-timed injuries have held Dean back in the past, Eels fans will be please d t o see a leaner and more in-shape Dean Widders talking the field in 2005.
"I've done a lot of work in my preparation for games, such as making sure I eat right and sleep right," he says. "After the game I make sure I treat my injuries straight away, go to the physio and do all those little kind of things.
"I've also dropped a few kilos just to make it easier to get aroun d t he field."
Every year, the gap between the top- and bottom-place d t eams in the NRL seems to grow smaller, an d t his season could well be one of the most competitive ever.
"Look out for last year's competition winners the Bulldogs," Dean warns. "They've got a similar side to the one they had last season.
"You can also expect to see improvement from the likes of the Broncos, St George and Penrith. I think those three sides, as well as Parramatta, could be the sides to look out for this year."
And so what can fans expect to see from Dean and the mighty Eels in 2005?
"I think that fans can expect to see a lot of attack from us in 2005," he says. "I think we're going to run the ball a lot this year and play a great style of footy, which the fans will love. We'll be as tough as we can in defence and not let our competitors run over us or bully us around.
"That's something that we've worked a lot on in the off-season, toughening up. Because if we can toughen our defence up we've got the attack to beat anyone."
(story 1/4/2005 end)
Rising Sydney City Roosters star Dean Widders is proving he's got what it takes to make his mark on Australia's top-shelf football competition, the National Rugby League (NRL).
Dean has been a star performer in the first division competition (NRL's reserve grade) for the past three seasons. Last year he scored an incredible 13 tries to finish fourth on the reserve grade try-scoring ladder. This season his great form continues and his team is running hot, currently placed in the top three and looking to take out the first division premiership.
Dean's love for the game began at the age of six when he joined local team Armidale Colts Under 7s. Although he was heavily involved in other sports during his childhood such as cricket, soccer, and touch footy, it was league that sparked his interest and saw his talents come to the fore.
As a teenager Dean quickly developed into a blockbusting lock forward, and it wasn't long before his on-field skills were drawing the attention of those that matter. When the news hit Sydney, league legend and Sydney City Roosters recruiting officer Arthur Beetson flew to Armidale himself to see what all the fuss was about.
In 1993, Dean was invited to Sydney to trial for a junior Roosters elite squad. And although he was only 14, he wasted no time in showing selectors what an Armidale kid could do.
When Dean decided to move to Sydney for good in 1996, Arthur helped him acclimatise to big-city life.
"He really looked out for me," says Dean. "I stayed with him for the first couple of months I was in Sydney and he helped me settle in. But most of all he's always been there for me, offering advice when I need it."
In that same year, Dean was given a real boon by being selected to tour England as part of the Australian Aboriginal rugby league team. Team trainer Phil Duncan recalls Dean playing one of the games of his life (so far) in a Test match against the British Amateur Rugby League Association.
"He was by far the best player on the paddock that day, and deservedly earned the Player of the Match award," recalls Phil. "At the age of 17 I knew he had a big future in front of him."
The Aboriginal team went on to win the match 54 to 22, thanks to a big effort from young Dean.
In 1997, Dean was awarded the Roosters' captaincy position for the SG Ball Under 18s, and duly led his side to a premiership victory. Dean also captains the Roosters' Under 20 team.
Another football star to come form Dean's hometown of Armidale is former Parramatta Eels player, now London Bronco, Dennis Moran. Dennis has had a big influence on Dean's career and the two have been friends for years.
"We've both wanted to be professional footballers since day one and so we've always pushed each other and trained hard to achieve our goals," says Dean.
"When Dennis broke into the top grade with Parramatta, it showed me that I could do it, too. It gave me the drive and confidence to go ahead and achieve my goals."
And then some. Dean currently has six first-grade appearances to his name with the Roosters, and looks set to graduate to premier league soon.
With his contract expiring at the end of the season, Dean says his main goal is to play in as many first-grade games as he can and hopefully cement a spot with the Roosters for next year.
Good luck Dean. We reckon you'll be a first grade fighting force for the feathers in not time at all.
DEAN WIDDERS – PARAMATTA EELS (EX-SYDNEY ROOSTERS) 2002
While he was used sparingly by the Roosters last year, Dean made an enormous impact when off the bench. A powerful runner and proven line breaker, Dean should be able to force his way into a starting position with his new team this season. If he can improve his fitness, there is no reason why he can't be an instrumental member of one of the strongest forward packs in NRL.