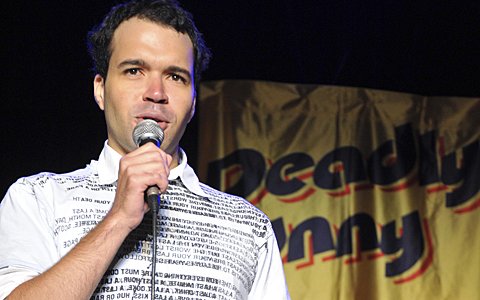 Descendant of the Kalkadoon people of Mt Isa, Tristan Savage is making a name for himself not only in comedy, but also in the writing world.
Following the completion of his Bachelor of Arts degree, in which he majored in theatre, Tristan stumbled upon the opportunity to get involved in comedy, entering in the RAW Comedy competition.
RAW Comedy is Australia's biggest and most prestigious open-mic comedy competition, which showcases the talent of some very funny Australians.
"I never really set out to be a comedian, it just sort of happened you know, I was good at it," Tristan says.
Since then he's participated in and won Deadly Funny in 2011, and had his own show, Australian Ghost, at the Melbourne Comedy Festival the next year.
"When I was in [Deadly Funny], it was a competition for Indigenous comedians, kind of like RAW, but a little bit less mainstream. I was in it and won," he says.
Since his win, Tristan's been travelling around the country performing, seeing the country and meeting people in different towns.
His 2012 show at the Melbourne Comedy Festival had everyone in stitches as he portrayed a variety of characters and stereotypes in a comical way.
"It was great. I met a lot of comedians and I got to know a bit about the industry and what it's like," he says. "I got to perform in front of lots and lots of people – it was great."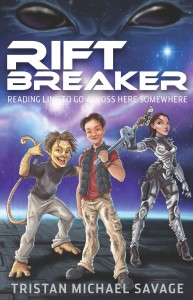 But Tristan's first love is writing. He says he has been writing since he was about 17 years old, and he recently won the black&write! Indigenous Writing Fellowship.
"It's a fellowship with the State Library of Queensland and also with Magabala Books in Broome. I won that, so I'm doing a lot of that. Hopefully I'll get around to writing some comedy as well," Tristan says.
Right now, he's working on his second novel; his first, Rift Breaker, is a sci-fi based one aimed at a younger audience.
"It's a science fiction, action-adventure about this guy. He has something special about him and he has to figure out what it is," Tristan says.
In the novel, the token human and lowly engineer Milton Lance conducts welding repairs on the outer hull of a space vessel, then returns to the silent, gloomy interior to find the crew dead. The only survivor is an annoying, pointy-eared simian. When a mysterious gun-toting woman rescues the stranded pair, an unlikely trio is formed.
But escaping the ship is the easy part. Milton soon discovers he is not an ordinary human at all, but a saviour of worlds.
The sci-fi action-adventure is driven by distinctive characters and explores themes of alienation, identity and independence.
Tristan has a busy year ahead of him. There's plenty he wants to accomplish and more comedy on the cards.
"Hopefully I'll get my narrative comedy series off the ground, do a few more shows and write another book," he says.
Outside of comedy and writing, Tristan's hobbies also include reading, watching movies, riding his scooter, playing Tetris and jogging to keep fit and healthy.
Tristan will also be participating in the Emerging Writers' Festival in Melbourne in May 2014, and will be involved in this year's Deadly Funny competition, part of the International Melbourne International Comedy Festival (MICF).
We'll leave the last word to Nancy Bates, Associate Producer of the Indigenous Development Programs at the MICF.
"People ask me, 'Why do you think Aboriginal and Torres Strait Islander people are so funny?' I tell them, as the longest living culture on the planet, we have been telling jokes for 60,000 years – you get to be good at comedy when you've been doing it for that long!"