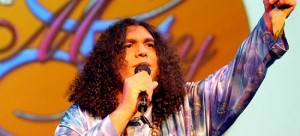 The queen of The Kimberley, Mary G, is bringing her own zany brand of music, comedy and family entertainment to the goldfields of Western Australia to help raise awareness about alcohol and substance abuse.
The three-week tour will promote a healthy alcohol and drug message through workshops and concerts in six WA goldfield towns.
Mary G, aka Mark Bin Bakar, has been delivering positive messages about health and reconciliation to Indigenous communities across Australia for more than 20 years. His television character, Mary G, was host of Australian television's first Indigenous variety show, which has been broadcast nationally on SBS. Mark is also a radio announcer based in Broome.
He says this tour is about raising awareness about how alcohol and drugs affect people in communities.
"This tour is about raising awareness about the use of alcohol, specifically about how it affects communities and individuals, young kids and women who are pregnant. The same goes for drugs," he says.
He says he gets a kick out of touring in rural and remote areas.
"I love it – the whole sense of purpose behind it. Working with the Mary G character gets me into the grassroots of these communities.
"It is also about reconciliation. Alcohol consumption is so normalised in this country. It is not just an Aboriginal problem, though the audience is predominantly Aboriginal. Drinking in the country towns is just as bad. It is about awareness of the potential harm that these drugs cause and taking control back," he says.
He says he will also be broadcasting on radio during the three-week tour, which will visit communities in the goldfields and Pilbara, such as Kalgoorlie, Laverton, Leonora, Wiluna, Meekatharra and Morawa in October and November.
Mark says the shows will also feature an emerging artist called Mervyn Mulardy, as well as local artists. Mervyn is a Karajarri language songman and lawman and he carries the culture of his people with song and dance, using contemporary sounds and fresh rhythms.
"Mervyn comes from the same place as John Bennett – from Bidyadanga, a community 180km south of Broome.
I try to support local artists where I can," Mark says.
Mary G first featured on Mark Bin Bakar's radio show in Broome at Radio Goolarri in 1993, where she tackled issues of domestic violence, sexual health and reconciliation. Mark presents the Mary G radio show for three hours every Wednesday night and it is broadcast to over 100 radio stations via the National Indigenous Radio Service (NIRS).
"I see an important role for Mary G as a voice for the empowerment of our people through self-esteem, education and raising an awareness of issues. She is a great tool, which can assist in attacking the ignorance and anti-social behaviour of many young people, and she has the ears of Indigenous Australia listening, laughing and learning, as well as the mainstream," he says.
Mark, as Mary G, made two six- part series for SBS, which have been re-run three times. This was Australia's first Indigenous variety show. Mark's mother, among other guests, appeared on the show to discuss issues that are of concern to the Indigenous community. Mary G is based partly on Mark's mother, one of the Stolen Generations, and Mary G draws her sense of humour from her.
Mark also tours across the country with his live cabaret show. He is only able to combine these two activities because he carries a portable radio studio whenever he leaves his home base in Broome.
Mark, a Kitja man, has been a major contributor to culture in Western Australia's Kimberley region and the nation in general through his work in the arts and media industries. In addition to his variety shows and radio announcing, he is a talented musician and was in seminal WA Indigenous bands such as Section 54 and Footprince. Twenty years ago, he also established Abmusic in Perth as a place to teach Aboriginal people to become musicians.
He has also been actively involved in seeking justice for members of the Stolen Generations, through chairing the Kimberley Stolen Generations Corporation, as well as producing two albums of songs about the Stolen Generations.
In 2007, Mark was named the NAIDOC Person of the Year in recognition of his work. Also that year, he was Western Australia's Australian of the Year, which made him a contender for Australian of the Year in 2008. Mary G won a Deadly Award in 2005 for Excellence in Film or Theatrical Score.
The Australian Government's Department of Families, Housing, Community Services and Indigenous Affairs has funded the three-week long "Mary G: Breaking the Cycle of Alcohol and Drug Abuse" Tour.
The tour forms part of the Breaking the Cycle of Alcohol and Drug Abuse in Indigenous Communities initiative that is being rolled out over three years, to 2014.
The initiative is being delivered by the WA Government's Drug and Alcohol Office and has the primary objective of enabling Aboriginal communities to devise their own alcohol and substance-abuse management plans. Funding is also available to help implement activities identified in the plans. Communities in the goldfields and Pilbara will be targeted under this program.