The Purple Truck is an initiative of the Western Desert Nganampa Walytja Palyantjaku Tjutaku Aboriginal Corporation and visits about 19 communities over a year.
"It's a fully functional dialysis clinic on the back of a truck and it means that for people who are from remote communities where there's no dialysis, we can get people home for trips to visit their family, their country and to reconnect them to their families and communities and have dialysis while they're there," Manager Sarah Brown says.
"We don't care about the borders; we say bugger the borders. Aboriginal people don't recognise the state borders. The truck goes to communities in the Northern Territory, Western Australia and South Australia."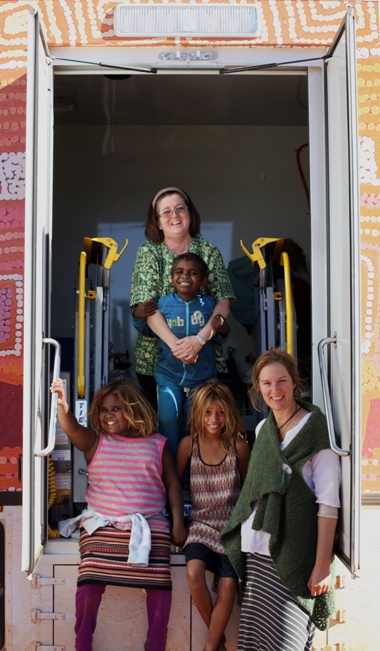 The truck doesn't have any government funding, so the organisation relies on community and other organisations to support the cause. For example, the truck is adorned with artwork by dialysis patients, funded by Medicines Australia and supported by Papunya Tula Artists and Fresenius.
"It has paintings on the sides, which were done by dialysis patients for a show in New York. When this Purple Truck turns up in a community there's lots of excitement. We have people running at the truck," Sarah laughs.
"Often communities have chucked in to help get the truck and the dialysis to them and the patients there. So there's lots of pride that this community organisation has designed this truck and is making it work and getting people home.
"Communities are proud and happy, and dialysis patients are just thrilled to be back out on country and catching up with their families."
Despite only being in business for just over one year, The Purple Truck has already received recognition with their recent win at this year's National Disability Awards, which Sarah says is a great honour.
"We won two awards in the same week, including a National Disability Award, which was about excellence in accessible communities. That was about how a lot of our mob who are on dialysis have lost their feet or part of their legs – they've had amputations and they're in wheelchairs," she explains.
"The Purple Truck improves access to communities in two ways – one by providing dialysis out there because that's how people can get home, but also the truck has got good disabled access, which means that we can take people who are in wheelchairs and get them back to country safely to do their dialysis."
A dinner was held in Parliament House and despite there being plenty of competition, The Purple Truck was rewarded for its already consistent efforts in communities.
Later in the same week, the organisation won an award for Total Ethical Enterprise in Federation Square, Melbourne. The award was not only for the workers and the fact the organisation is non-government, but also for their social enterprise.
"As part of our organisation we have a social enterprise, which is making a mark in bush medicine and a catering business. So we won a second national award in the same week in Melbourne," Sarah says.
It's been a great year for Western Desert Nganampa Walytja Palyantjaku Tjutaku Aboriginal Corporation, with the recent opening of two new facilities in Lajamanu near Katherine and also Warburton.
"We're really proud to be a pretty innovative, community-controlled Aboriginal Corporation looking after people on dialysis and helping them get back to their families," Sarah says.