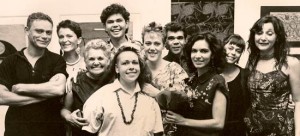 An exhibition of the works of the founding members of the Boomalli Aboriginal Artists Cooperative opened late last year to celebrate the cooperative's 25th anniversary. It was a huge event, with more than 500 people turning up to pay homage to this amazing cultural institution.
The exhibition, called Ripple Effect: Boomalli Founding Members, features works by Bronwyn Bancroft, Euphemia Bostock, Brenda L Croft, Fiona Foley, Fernanda Martins, Arone Raymond Meeks, Tracey Moffatt, Avril Quaill, Michael Riley and Jeffrey Samuels. Gary Foley officially opened the exhibition and at least 500 people turned up on opening night.
One of the founding members of Boomalli, artist Bronwyn Bancroft says the exhibition is a selection of the 10 founding members' art.
"Instead of a selective mix of the artists we have had exhibiting over the 25 years, we went back to the roots. A lot of people came because of the endurance. A lot of people couldn't believe that we had made it," Bronwyn says.
"The nine living members (Michael Riley is deceased) all came down for the anniversary opening on November 23. There were also artists' presentations and talks over the weekend. It really is an amazing exhibition because we have a lot of old photos on display to give people a sense of the history."
Bronwyn says that there was nothing on the Aboriginal art landscape like Boomalli when it started – and there still isn't.
"It is the only, longest and most enduring Aboriginal-controlled cooperative – our focus has become looking after NSW artists. To get to that 25th year has been an enormous struggle, but it was just the most exciting thing as well. That said, there are highs and lows in every organisation and you have to be prepared for the lows. You have to manage that. We are good managers," she says.
Boomalli has been through some cathartic episodes, including moving locations several times. Their first home at 18 Meagher Street in Sydney's Chippendale was made possible through the insight and forward thinking of Michael Riley and Gary Foley, who as Director of the Aboriginal Arts Board at the time, promoted Boomalli's endeavours and initiated Aboriginal Arts Board funding. That was in 1987.
"We were evicted from that space but because we are staunch people we stood our ground and worked with a legal firm called Allens Arthur Robinson (AAR), who offered pro-bono legal services to assist us. AAR eventually inherited the onerous task of claiming the legal rights to possess the building and clean up all of our outstanding liabilities," she says.
She says Boomalli has allowed many Aboriginal artists to take direct curatorial control of their exhibitions, as well as devising their own marketing and sales strategies.
"Since 1987, Boomalli Aboriginal Artists Cooperative has continued to promote the original objectives of the founding artist members by providing continuous support to New South Wales Aboriginal artists so that they can exhibit, define and promote Aboriginal art themselves," she says.
"At the end of the day, all we want is fair and equitable representation and the way we get that is by doing it ourselves as a collective. A measure of Boomalli's success lies in the achievements of its long-term members. Some of them have received international acclaim for their work. A number of the artists are represented in Australia's national collections and have exhibited throughout the country and overseas."
Bronwyn says the future is looking bright for Boomalli.
"The journey is not over by a long shot, but we have almost all the areas realised in the gallery. We have developed and created two new galleries in front of the building, one small works gallery and an objects and print gallery. We have kept the gallery open with volunteers. We have filed, we have cleaned, and we have all enjoyed the thrill of seeing our Aboriginal brothers' and sisters' beautiful faces when they are at their own exhibition opening, as well as those of their friends and community members," she says.
Boomalli shows a minimum of six exhibitions a year. The cooperative also works closely with other cultural institutions, providing artworks for inclusion in exhibitions at museums, galleries and public events.