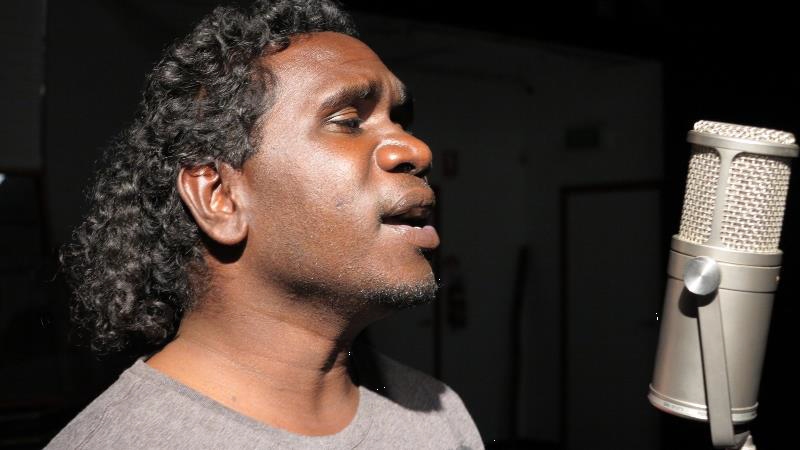 Stewart Gaykamangu recently recorded a special rendition of the popular Christmas Carol, 'Silent Night' in the East Arnhem Land dialect of Yolngu Matha – a language spoken only by about 4600 people.
Originally from the Top End, Stewart now lives in Central Australia, and his career is on the rise with his song 'Lorrpu' winning NT Pop Song of the Year and his debut album due for release in 2014.
He has performed at the Mbantua Festival, the National Indigenous Remote Media Festival in Ntaria and the Indigenous Economic Development Forum in Alice Springs, where his piano playing and stirring vocals impressed delegates from all over the country.
Swapping the tropical Top End for the red deserts of Central Australia after a church trip where he met his wife, Samara Burton, Stewart still sings in the church choir of Amata and was pleased to be able to record his favourite noel in his mother tongue.
"It makes me proud to sing this Christmas song in the language of my homeland. I hope people hear it around the world and think of my people," says Stewart.
Released by the Central Australian Aboriginal Media Association (CAAMA), the indigenous record label based in Alice Springs, the song is complimented by a YouTube video showcasing CAAMA's highlights of 2013 across the different divisions of its large media group.
"CAAMA has been a very busy organisation in 2013 as it re-positions itself within the marketplace to become a more relevant organisation collectively. Our achievements in 2013 have set us up for a great 2014," says CAAMA CEO, Michael Robertson.
'Silent Night (Arnhem Style)' by Stewart Gaykamangu is available for sale on iTunes.