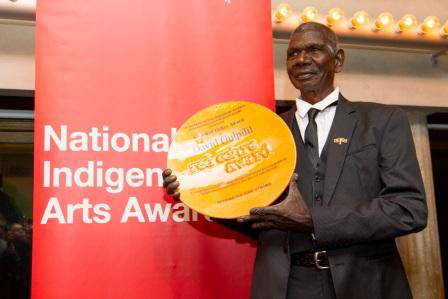 Indigenous artist, actor, dancer, choreographer and painter David Gulpilil, OAM has won this year's Red Ochre Award.
The Red Ochre Award, valued at $50,000 is Australia's highest peer-assessed award acknowledging the outstanding contribution of an artist to Aboriginal and Torres Strait Islander arts at the national and international levels. It is presented annually by the Australia Council's Aboriginal and Torres Strait Islander Arts Board.
David Gulpilil was first cast in the 1971 film Walkabout because of his extraordinary talents as a dancer. He was just 15 and had never acted before. Since then he has appeared in many films that have become milestones in Australian cinema, and which have helped define Australian culture. Some of these films include Storm Boy, Mad Dog Morgan, The Last Wave, Crocodile Dundee, Two Hands, Rabbit Proof Fence, The Tracker, Ten Canoes and Australia. He has also acted in many television roles.
With the support of his family and community, David has plans to create economic development in Arnhem Land to generate jobs, social benefits and a new dimension for Australian tourism and the arts. He is already widely recognised as being a major influence on the growing number of Indigenous professionals across Australia.
David's latest completed film, Satellite Boy, directed by Aboriginal director Catriona McKenzie, is set in Western Australia and will open in Australian cinemas on June 20. The Red Ochre Award was presented at the 6th National Indigenous Arts Awards, held at the Sydney Opera House earlier this week. Chair of the Australia Council Rupert Myer AM says The Red Ochre Award for David Gulpilil is wonderful acknowledgement from his peers. "The Australia Council's National Indigenous Arts Awards celebrate the continuity and dynamism of contemporary Indigenous cultures in Australia," Rupert says. "These awards and fellowships are a significant recognition of the unique and important work of each of the recipients," Chair of the Australia Council's Aboriginal and Torres Strait Islander Arts Board Lee-Ann Buckskin says David's Red Ochre win is an acknowledgement of his continual efforts to bring the experiences and wishes of his people to national and international attention. "He is unquestionably one of the most respected Australian actors on the international film stage, and a major contributor to the voice of Aboriginal and Torres Strait Islanders," Lee-Ann says. "Beyond his work on screen, David's contribution to our people is astounding. He has been, and continues to be, an inspiration to many people, opening doorways and creating career pathways where there were previously none."
The winner of the $20,000 Dreaming Award, for a young and emerging Indigenous artist, was awarded to Rhonda Dick, a photographer from South Australia. Two fellowships of $45,000 a year over two years was also awarded to visual artist, Jennifer Kemarre Martiniello; and writer, activist and musician Richard Frankland.