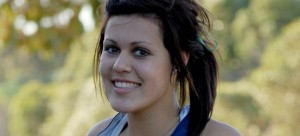 From Murray Bridge in South Australia, 17-year-old Alex Wilson is a current player for the Adelaide Lightning in the WNBL, and she has just been named in the Australian Under-18 women's basketball team.
Deadly Vibe: How did you get started in basketball?
Alex Wilson: I started playing basketball when I was four years old, my dad has been heavily involved in basketball throughout his life so I was pretty much born into it. I also played netball.
DV: You're usually one of the smaller players on the court – how do you cope with that and playing against mostly older players?
AW: It's a little bit intimidating coming up against bigger and stronger bodies, but I've been around for a little while now, so I know if I put my best foot forward it will take care of itself pretty much.
DV: 2011 has seen you make your WNBL debut with the Adelaide Lightning, how have you found it?
AW: Really good. I train four nights a week, so basketball is pretty much my whole life at the moment, but the girls there are great and it's been good coming into a great team like that.
DV: How big is the step-up in competition?
AW: The step-up is really noticeable – the running, the fitness… it's 10 times harder than anything I've played in before.
DV: What area of your game are you working on the hardest at the moment?
AW: Definitely fitness, it's not such a bad thing now, but when I first started with the Lightning I really noticed it. It's such a fast game in the WNBL. I also need to put on a bit more weight and muscle. Because I'm not that tall, I need more weight on me, so I can push myself around against the bigger bodies.
DV: What are your major goals at the moment?
AW: I go to the AIS in January and I hope to go really well there. After I finish up, I hope to get picked in a good WNBL team, maybe away from Adelaide, simply because I'd like to go somewhere different. And hopefully I'll make the Australian U19 team and go on to play for the Opals.