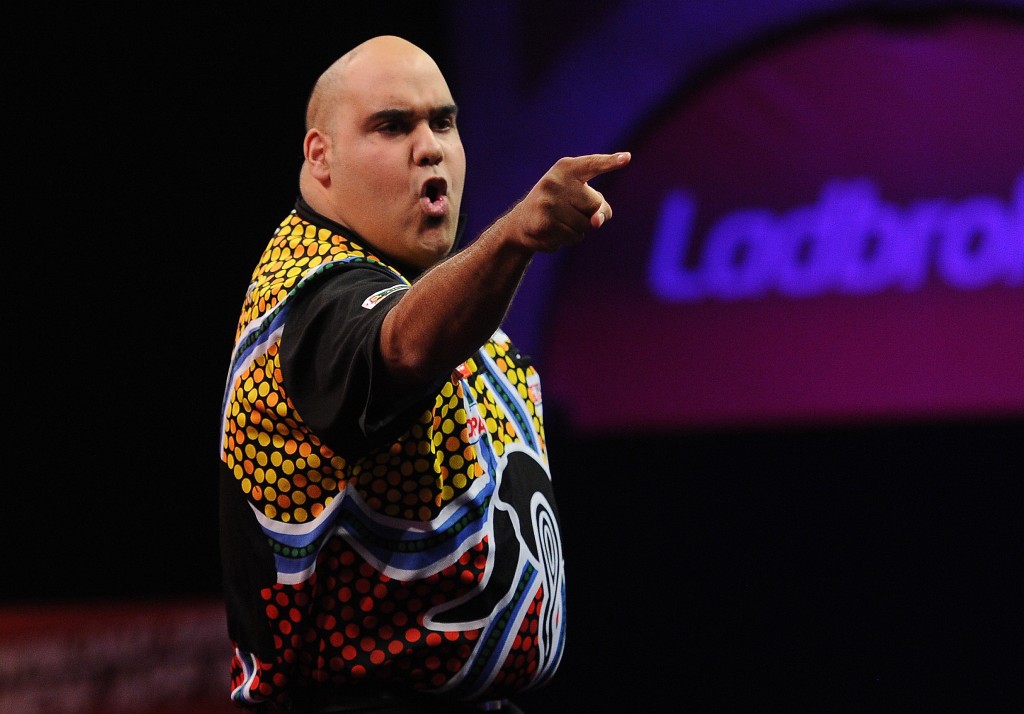 Perth man and dart extraordinaire, Kyle Anderson, became just the second Australian and the first Aboriginal Australian to hit a televised nine-darter on day two of the World Darts Championship in London earlier this week.
Although Kyle achieved perfection by checking out with only nine-darts – the fewest possible- from 501, he lost in his first-round clash with Ian White.
It's not all bad though, Kyle will split a 30,000 pound bonus with Terry Jenkins who also conquered the notoriously difficult feat an hour beforehand, unless other players manage to achieve the almost impossible.
"The nine-darter was the highlight of my game; something special," Kyle told news.com.
"You can't describe the feeling, to hit a nine-darter and have my baby boy and fiancée watching back home. I came here to be a part of history and I played well today. There's disappointment, but the high of the nine-darter outweighs the disappointment of losing.
"It hasn't sunk in and I'll probably wake up tomorrow still buzzing, but I think it will help people to recognise me because I want to raise the profile of darts in Australia."
The 26 year old was met by thunderous applause after the final dart thudded into the bristle and with that he pointed at his supporting brother and says there were "nearly tears".
"It was surreal; it was surreal. I hit the first 180 and I started shaking, then I hit the second 180 and started shaking even more and I thought 'I've done this twice before, you know what to do, give it a good crack'. Then the 60 went in first and I started shaking and I thought 'composed' then the 57 went in and I said – this might sound cocky – I said 'I've got it'. I know I had it," states Kyle in an interview with Fox Sports.
Kyle, who has been competing since he was nine, will return to the World Darts Championships next year where hopefully he can throw another perfect leg.
To subscribe to Deadly Vibe Wire and keep up to date with everything Deadly click here.
Click on the below links to see other stories from the Wire this week:
Stewart Gaykamangu recorded a Christmas Carol in language.
Deadlys® celebrates 20 years.
Dylan's mission to recognition.
Get your art on a pair of RayBans.
Search for the next top model.
Flashback Friday – Dart playing brothers Beau and Kyle Anderson.
Naomi Wenitong in Deadly Sounds interview from last year.
Deadly Sista Girlz Program recently held an end of year excursion.
Bangarra heads to Holland.
Kaleesha is studying for change.
AMS of the week – Ramahyuck District Aboriginal Corporation.