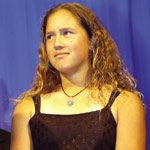 >Deadly Vibe Issue 83 January 2004
Tegan Blanch from Stuarts Point in NSW doesn't believe in putting her eggs all in the one basket, and why should she? This talented athlete has been picking up awards across all areas of the sporting field and it seems like there's nothing this girl can't do. In recognition of her multi-skilled athletic talents, the National Aboriginal and Torres Strait Islander Sports Awards awarded her the National Disabled Sportswoman award in late 2003.
The award, which topped off a remarkable year for Tegan, has shown that it's possible to leap over any barrier to reach your goal. If you've seen the ad on TV where there are two people playing tennis at one end of a court and two people playing tennis at the other end – in a pool – then imagine an athlete who really can play those two sports that well, and you have Tegan. A phenomenal tennis player, Tegan has been selected as a member of the Australian Deaf Tennis Squad to compete in Melbourne's Deaflympics. Not satisfied to reach a national level in only one sport, however, Tegan has also been named a member of Australia's Deaf Aquatic Squad. A talented butterfly, backstroke and freestyle swimmer, she recently won silver and bronze medals at the NSW Swimming Championships.
Two sports at national level seems like an incredible achievement, something we've probably only seen before in someone like Nova Peris. However, it looks like Tegan has decided to go for the trifecta. Apart from swimming and tennis, Tegan's talents also extend to track and field.
A dedicated athlete, she is a gifted javelin, shot-put and discus thrower and secured gold medals at the NSW Athletics Championships. Some people might say, concentrate on one thing and do it well. However, Tegan is living proof that there are no rules when it comes to following your dreams your way. She is a great inspiration for all Indigenous people, especially for anyone dreaming of doing the impossible.