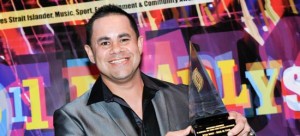 MY NAME IS… Brian Dowd.
MY POSITION IS… Business owner and founder of Black on Track, a program that won the 2011 Deadly Award for Outstanding Achievement in Aboriginal and Torres Strait Islander Employment.
MY MOB IS… the Gamilaroi Nation from northwest NSW in a place called Coonabarabran.
I LIVE IN… Newcastle, NSW, though my country is Coonabarabran. I try and get back there three to four times a year. When I go home, I take off my shoes and recharge my spiritual batteries.
THE POPULATION HERE IS… around 2,500 in Coonabarabran.
BRIEF HISTORY: My family grew up in Burra Bee Dee Mission, 10km out of Coonabarabran. My great grandmother was Mary Jane Cain, who founded the reserve. The establishment of Burra Bee Dee Mission is considered a significant historical phase of NSW as it was land granted to an Aboriginal woman (Mary Jane Cain) in the early 1900s by Queen Victoria and gazetted in 1911 as an Aboriginal Reserve. The bridge in Coonabarabran is named after Mary Jane Cain.
DESCRIPTION: . The country is flat until you get to the mountains. It gets up to 45˚C in summer and down to 9˚C in winter.
LIFESTYLE:  As a kid I remember chasing snakes, rabbits and gathering bush tucker. We would be On Country and walk up to 10km a day, go swimming in our waterways and make our own fun.