Message Sticks is back on at the Sydney Opera House from March 19 to 24. There's a range of interesting dance, music, talks, storytelling and exhibitions, as well as 'free films' screenings in the playhouse venue. 
On Saturday, 23 March, see three ground-breaking documentaries that tell of Indigenous struggle, resilience and survival: Croker Island Exodus, Coniston and Black Man's Houses.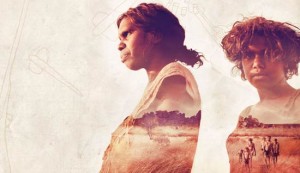 Coniston
Screening at 3.45pm, Coniston tells the story of the massacre of more than 100 Aboriginal people in 1928. Known as "the last massacre", this was in fact a series of expeditions that set out in August 1928 and mowed down innocent people. It was to avenge the killing of dingo trapper Fred Brooks at the hands of a Warlpiri man called "Bullfrog".
But as the Warlpiri people and their neighbours tell the story, it is also the tragic tale of dispossession by pastoralists and the struggle for resources in a drought-stricken land.
There are also stories of survival and resilience. 'Coniston' brings together
the past and the present through the story-telling of the Warlpiri, Warumungu, Anmatyerre and Kayteje people.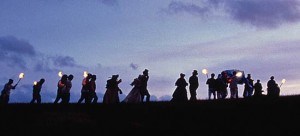 Black Man's Houses
Screening at 5.45pm, the 1992 film Black Man's Houses offers a glimpse of Tasmanian history and the fight by its Aboriginal community to lay claim to the gravesites of their ancestors on Flinders Island, Bass Strait.
Directed by Steve Thomas, this film is a re-examination of Tasmanian history. In particular, it explored the reasons for the deep divide, at the time, between the contemporary Aboriginal and non-Aboriginal communities on Flinders Island in Bass Strait.
A symbol of this divide was the dispute over land at Wybalenna, where the remaining tribal Aboriginal people from the Tasmanian mainland were incarcerated in the mid-19th Century and it is also the site of more than 120 Aboriginal graves.
At the time of filming, the Aboriginal communities had lost a Land Rights claim to the site and were occupying it 'illegally' in protest. Communication between the Aboriginal people and majority communities of Flinders Island had essentially broken down but by examining the history of the situation and juxtaposing and inter-cutting interviews with individuals from both sides, Black Man's Houses managed to construct a debate where no debate was actually happening. The results were both immediate and long term when the film was released. In the short term, several individuals from the white community made personal apologies to the Aboriginal community and acknowledged the community's point of view and their rights.
The film was taken up by the Tasmanian Aboriginal community as a tool in educating others and quickly found its way into the curriculum of relevant history and Australian Studies courses in schools and universities and was screened for politicians in the Tasmanian Parliament.
In the long term, the film acted as a catalyst in the political determination that Wybalenna should be handed back to the Aboriginal community. This was done by the Premier Jim Bacon at a ceremony at Wybalenna in 1999 and has now been formalised under the Aboriginal Lands Amendment Act 2004 (Tas), which declares the land to be held and managed by the Aboriginal Land Council of Tasmania.
Black Man's Houses also gained a limited cinema release and won awards at both
the Sydney and Melbourne Film Festivals.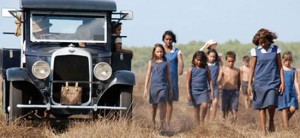 Croker Island Exodus
Screening at 7.45pm, and directed by Steven McGregor, Croker Island Exodus is a film about the 5000km journey made to Sydney by 95 Stolen Generation children and their missionary carers as they fled the Japanese bombardment of Darwin in 1945.
In 1941, all white women and children were evacuated from Darwin due to an imminent Japanese invasion. But on the tiny Methodist Mission on Croker Island in the Arafura Sea, the Superintendent and three cottage mothers, including one Margaret Somerville, responsible for the 95 Aboriginal children were given the option of evacuating – but how could they leave the children?
When they learnt by pedal radio that Darwin had been bombed, the missionaries moved the children off the island themselves and so began their perilous journey.
Their only route to safety was by boat to Barclay Point, then across Arnhem Land by foot, canoe and truck. At Oenpelli, they expected to stay three days but it was weeks before they got word that they would have to walk another 95km to meet government trucks. With help from traditional Aboriginal men they crossed the flooded East Alligator River by dug-out canoe.
After many days, they met up with the trucks. But arriving in Pine Creek they found an American army base, with no beds, just the Butcher's Paddock on the outskirts of town.
They finally boarded a cattle train en route to Alice Springs and their destination – a Methodist farm on the outskirts of Sydney. In 44 days these brave women and their young charges travelled from Arnhem Land across the continent – a truly heroic journey and an epic story of human endurance and resilience.
In 1946, Margaret Somerville returned to Croker with the children including Alice, Netta and Jessie
who are now in their eighties.
They have endured so much in their lives but their friendships forged
on Croker remain strong. These Aboriginal women still call Margaret, now 99 years
old, 'sister'. It is their shared stories of
love, humour and compassion that
are central to this film.
The Free Films continue on Sunday, March 24, with these four screenings:
Emma Donovan & Kerrieanne Cox: Defining Moments, Apekathe, Mauri (NZ)and Unnatural and Accidental (Canada).
Defining Moments
Screening at 1.30pm is Emma Donovan & Kerrieanne Cox: Defining Moments. This duet of doco screenings explores the defining moments of two of our best-loved artists, revealing them to be fascinating people whose lives have been profoundly shaped by pivotal personal events.
The 30-minute documentary on Emma Donovan will capture the raw emotion of her experience at the Garma Festival. We find out about Emma's persona journey in discovering and learning about her own traditional language and how this has had an impact on her life and music.
Apekathe
At 4.45pm is the multi award-winning short film Apekathe. This film, written and directed by Steven McGregor, explores the notion of identity. After the screening, the Message Sticks Festival's Artistic Director, Rhoda Roberts, will join in the Q&A session.
Meaning "fair skin" in the Arrernte language, Apekathe examines how Aboriginal people are judged by their colour and why it's vital that white Australia is aware of the importance of Indigenous identity.
Apekathe follows the story of two Aboriginal women and their families and how they identify with their Aboriginal heritage. Using Priscilla Collins' family as the vehicle, this documentary explores this identity crisis in a contemporary environment. The people in her family have skin that ranges in colour from dark to light.
There is no doubt within the family that they are Aboriginal, but there is doubt in society at large. Maureen McGregor is an Aboriginal woman from the Daly River region of the Northern Territory. Maureen does not have to contend with sceptical remarks about her identity as she possesses the characteristics and pigmentation of an Aboriginal person.
Her children however are fair with red hair. As with Priscilla, these children will grow up to be ridiculed for proclaiming they are Aboriginal. This film shows the diversity that makes up the Aboriginal nation of Australia and why there are people with fair skin who call themselves Aboriginal.
Mauri
Screening at 6.45pm, is the 1988 movie Mauri – the first feature film to be written, directed and produced by a Māori woman, the late Merata Mita. Mauri (meaning life force) is loosely set around a love triangle and explores cultural tensions, identity, and a changing way of life in a dwindling East Coast town. As with Barry Barclay's film Ngati, Mauri played a key role in the burgeoning Māori screen industry.
Unnatural & Accidental
Emphasising that Indigenous identity is a global issue, the 2006 Canadian feature film Unnatural & Accidental is adapted from a work by Métis playwright Marie Clements. It' the story of a First Nations' woman whose search for her Aboriginal mother leads her into the darkest side of Vancouver's underbelly. This last free film screens at 9pm.