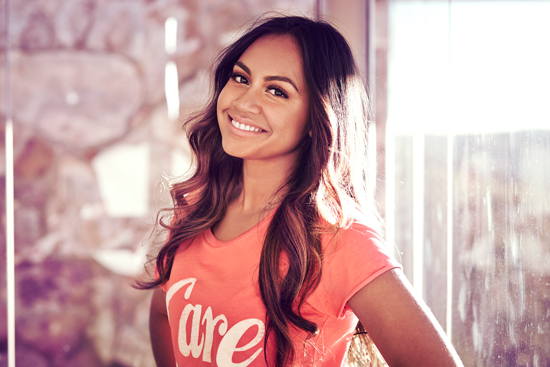 Sunday night was a special occasion for Jessica Mauboy fans as they learned she'd won Best Female Artist at the 2013 Australian Record Industry Association (ARIA) Awards.
AAP reported that a starstruck Mauboy accepted her award from Alicia Keys, stopping to chat to her before heading to the podium.
"Shut the gate; I'm just going to say it. This is so deadly," she said onstage. "You're so incredible I can't stop looking at you. Oh man, oh my goodness, Alicia Keys."
Backstage, Jess admitted, "we had a bit of a moment together. Her words were 'I love your vibe; I love your energy'."
"I just knew what she was saying about that. That was magic and I'll never forget that."
Jess' winning album 'To The End Of The Earth' beat Sarah Blasko's 'I Awake', Missy Higgins with her album 'Set Me On Fire', Emma Louise with her album 'Vs Head Vs Heart' and Abbe May with 'Kiss My Apocalypse'.
While this isn't the first time Jess has won an ARIA, it's the first time she's won in a category voted by her peers. Her first ARIA was for highest selling single in 2009 with 'Running Back'.
Jess feels she's in a 'great place' and is just being honest and herself. "I think if you're more like that, these things connect more."
However, Jess said on the red carpet before the event that she was disappointed by the lack of female nominees at this year's awards.
"It was a little bit interesting because we have so (many) strong women in this industry and it would be been good to see more of them nominated," she told AAP.
Mauboy named a number of women she believed should have received more recognition, including Best Video winner Jade and her former Australian Idol colleague – and an absentee at this year's award – Ricki Lee.
"I think that's what I feel (disappointed) inside, but you know I'm not one to talk about it. I'm quiet about it, it is what it is and what can you do."
To subscribe to Deadly Vibe Wire and keep up to date with everything Deadly click here.
Click on the below links to see other stories from the Wire this week:
See what Lou Bennett has been up to lately.
Get an insight into the beautiful Mossman Gorge Centre.
NITV News named a finalist in Walkley Awards.
A second successful Tour da Country.
Dan Sultan's first new song in four years.
Do you have what it takes to design the Tiger's guernsey for the 10th annual Dreamtime at the 'G?
New exhibition turns a range of Queensland's vibrant Aboriginal and Torres Strait Islander stories into animation.
Prevent the serious medical condition that is heatstroke.
Avea Sabatino at the 2013 Asian Science Camp.
Winda-Mara AMS – one stop health care.
Mount Gambier 3on3® a success.
Batchelor Institute of Indigenous Tertiary Education named a finalist for the 'Large Training Provider of the Year' award.