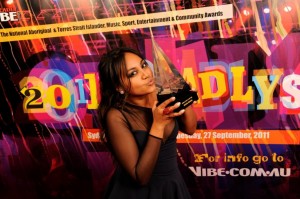 Jess Mauboy will perform a song from the hit film The Sapphires for the 2012 Deadly Awards at the Opera House on 25 September, along with other well known names and some up and coming stars too.
It's all part of a well planned line up for this year's National Aboriginal and Torres Strait Islander Music, Sport, Entertainment and Community Awards, aka the Deadlys, designed to showcase the best of Indigenous talent in Australia, and also give a platform to the talent on Australia's music horizon.
WA singer/songwriters have a presence at the Deadlys this year with John Bennett dubbed the Voice of the Kimberley's opening the Sunset Ceremony and joined by desert-rockers, Yabu Band from Kalgoorlie.
The show will not be without its many moments and one will no doubt be the tribute to the late, legendary gentleman of song Uncle Dr Jimmy Little. Opera singer Deborah Cheetham will conclude the tribute with a special performance.
Earlier this year up and coming Tasmanian Aboriginal singer/songwriter penned a tune for Tourism Australia which has been used in the latest ads promoting Australia to world travellers. Dewayne Everettsmith will perform It's Like Love for the Deadly audiences.
But a show is not a show without variety, and that's what Deadly Executive Producer Gavin Jones has got planned for 2012 – lots of variety.
"Aboriginal and Torres Strait Islander performers with Circus Oz will entertain us on the Opera House mainstage and we'll also be featuring a hip hop show, Standing Strong with rising hip hop group Yung Warriors," Gavin says.
"We're also locking in a diverse cast of presenters who will bring their humour, insights and presence to the stage. Along with the thrills of a national awards night, the Deadlys is definitely a show that will be enjoyed – both for live audiences in the Concert Hall and in homes around Australia via the national radio simulcast through NIRS and CRN, and for television viewers when the Deadlys is broadcast on SBS on 30 September 2012."
Tickets to the Deadlys are on sale through the Opera House booking office (02) 9250 7777 or email [email protected] is back for its 18th year and finalists across 29 award categories have already been announced. Voting is open at www.vibe.com.au and closes on 9 September 2012, so get in and have your say on who's Deadly.
Vibe Australia produces the Deadlys awards, Vibe Alive, Vibe 3on3, InVibe, Deadly Vibe, Deadly Sounds and Deadly TV. For more information about products: www.vibe.com.au or find us on facebook  deadlyvibe and follow us on twitter @deadlyvibe.