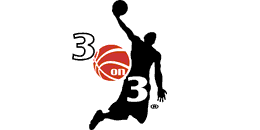 The countdown is on to the National Indigenous 3on3 Basketball and Hip Hop Challenge – Vibe 3on3® in Albany, with young people getting ready for the action-packed Thursday event on 11 August 2011.
Event producer Georgia Cordukes says planning for the Albany event is going well, with great involvement from the Albany community.
"We are looking forward to visiting and providing an opportunity for fun, activity and learning for young people. I know the young people of the Albany community are counting down to the event – and so are the Vibe crew and our role models," she says.
Rap artist Knowledge Bones will be hosting rap writing workshops with students at the Vibe 3on3® and John Callagher will be breaking it down as the hip hop dancer/performer. He'll join well-known Aboriginal dancer Medika Thorpe, hip hop artist Jimblah and comedian Kevin Kropinyeri.
Hosted by actor Luke Carroll, the action-packed "Thumping Thursday" event features a 3on3 basketball tournament, rapping and break dancing lessons, art workshops, a dance competition and a health expo, all accompanied by a backing track of the latest RnB, hip hop and Indigenous music.
The Vibe 3on3® – is a fun, free event for Aboriginals and non-Indigenous Australians. There's basketball, dancing, music, health and culture to entertain and challenge young people. The event encourages sportsmanship, teaches new skills and builds self-esteem as well as promoting reconciliation at a grassroots level.
The event will be held at the Albany Aquatic and Leisure Centre Barker Road, Albany from 9am-2.30pm and will feature an opening ceremony, face painting and a health expo. To participate in the Vibe 3on3®, young people needed to pre-register through their schools.
The Vibe 3on3® would like to thank its local sponsors City of Albany and the Department of Sport and Recreation.
The Vibe 3on3® would not be possible without our sponsors the Department of Health and Ageing through the Office of Aboriginal and Torres Strait Islander Health and Vibe Australia. We also thank our supporters the Koori Mail, Deadly Sounds and Deadly Vibe, the Jimmy Little Foundation and the 'Thumbs Up' Healthy Tucker Program, and the Indigenous Electoral Participation Program through the Australian Electoral Commission.