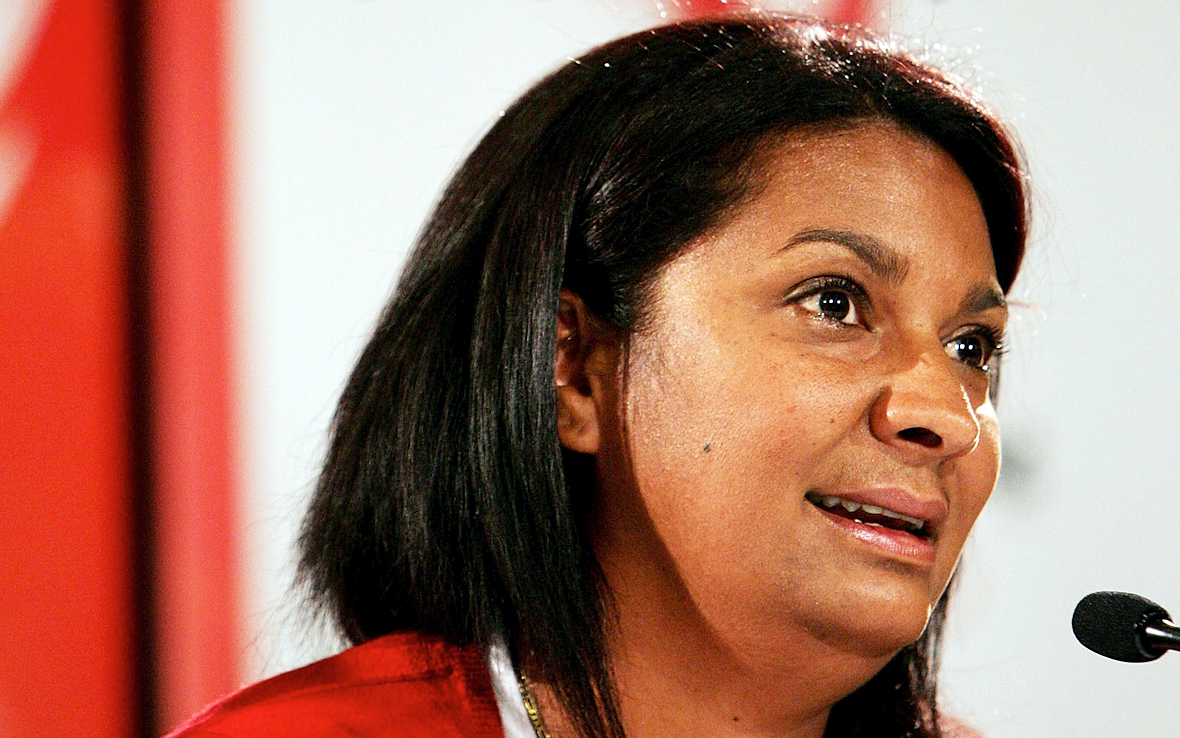 Senator Nova Peris delivered her emotionally charged maiden speech to the Senate earlier this week speaking passionately about the struggles of her family, her people and an Australia she envisions.
Nova was the first Aboriginal Australian to win Olympic gold for her country some 17 years ago but the first Indigenous woman elected to Federal Parliament said these accolades become "virtually meaningless" when paralleled with her grandparent's and mother's ability to survive during "those days".
She began her speech by acknowledging the culturally significant land of the Ngambri people she spoke on as Senator. Nova then went on to speak of her family and the hard times they grew up in.
"The past is the past and no matter how hard we try we cannot change that history. But let's start to undo the wrongs with what is right and just. I urge all my parliamentary colleagues to become champions for the recognition of Australia's first nation people in our Constitution," Nova says.
"To Aboriginal and Torres Strait Islander peoples, this has always been part of our story of struggle, injustice and heartache. But we are here today—and I am here today—because of this history.
"Aboriginal Australians are symbolic of triumph over adversity. We represent knowledge and wisdom held in land and country, because in our hearts we know that we do not own Mother Earth; the Earth owns us."
Nova went on to challenge the fact that the plight of Aboriginal people has been used "purely for political purposes" and that she has seen "totally unscrupulous people try to use the misery of some of our people's circumstances to promote their own cause and agenda".
"It is racism—and I know that is confronting—but I will not stand by in silence. How we change things—that remains the challenge, but I know from my heart that nothing can be achieved without total determination and a gut-busting effort," Nova says.
"I have been fortunate enough to achieve at the Olympic levels of sport in hockey and athletics. I have experienced the total joy of winning gold medals for my country. And I have lived the exciting life of an elite athlete—fussed over and entertained—in more than 50 countries around the world.
"But I would swap all of that in a heartbeat—I would forgo any number of gold medals—to see Aboriginal Australians be free, healthy and participating fully in all that our great country has to offer."
Nova says that she is a person that puts theory into practice. This is reflected by the Nova Peris Girls Academy that she established, actively making a difference in the lives of young Aboriginals and Torres Strait Islanders.
"For too long we have all heard too many people say they have the answers for Aboriginal Australians and claim the moral high ground. If the answers were as easily provided as the questions are posed, we simply would not have a problem," she explains.
"In fact the answers are difficult and complex; but they do not lie in absolute positions and simplified slogans. Just delivering another government program will not end the appalling rates of youth suicide in our communities, for example. These are uncomfortable issues but they must be confronted."
Throughout her inaugural speech as Senator, Nova put an emphasis on health – a prominent and contentious subject within the Northern Territory – "the only jurisdiction in Australia that is on track to meet the Closing the Gap target on life expectancy".
"This improvement comes from people who have sought evidence and put that evidence into action. They have not acted on any fixed ideology but out of dedication and commitment. This evidence based method of approach is, in my view, a real road sign for the future and points the way to dealing with so many other areas of Aboriginal life that have seemed so intractable for so long," she says.
"This is why I will be seeking to work not only with my colleagues in the Labor Party in holding the government to account but also with the current government to ensure we build on successes in primary health care—and to extend those successes into other areas of our lives.
Another topic Nova stresses is education and the value that it holds in creating and maintaining better outcomes in all aspects of life.
"Education remains the major foundation for self-improvement. And although education is a basic fundamental right of every child in this country, irrespective of their race, the fact remains we must work hard to convince people of the value of education," she says.
She insists that she will be no "one-term wonder" and she sincerely has the best interests of her fellow Northern Territory people at heart.
"I acknowledge I am a Senator elected to represent all Territorians, and I fully intend to discharge this duty to the best of my ability, and I will always put our concerns—the concerns of Territorians—first and foremost."