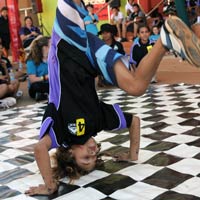 Hundreds of young people descended on the JC Hardie Centre for the first National Indigenous 3on3 Basketball and Hip Hop Challenge – the Vibe 3on3® on June 24.
Over 40 teams from Port Hedland and schools around the region attended to compete in the Vibe 3on3®.
Event Producer Mayrah Sonter says the Port Hedland Vibe 3on3® was one of the best in the event's 11-year history.
"Not even a volcanic ash cloud could stop this 3on3, despite slightly delaying the Vibe event crew's flights," Mayrah said.
"The Vibe 3on3® Basketball and Hip Hop Challenge had it all – fierce competition, an energetic committee, many volunteers, a fly over by a spitfire aeroplane, a live radio broadcast as well as outstanding community support for the event."
The action-packed event featured a 3on3 basketball tournament, rapping and break dancing lessons, art workshops, a dance competition and a health expo, all accompanied by a backing track of the latest RnB, hip hop and Indigenous music.
After a Welcome to Country, dance performances by the Bailor School Dance Group were a highlight of the Opening Ceremony.
Port Hedland's Mayor Kelly Howlett presented prizes to the day's winners at the Closing Ceremony.
The event's role models – artist and comedian Kevin Kropinyeri, Adelaide Rap artist Jimblah and dancer Ann Janette Phillips gave lively performances during the day.
Indigenous and non-Indigenous young people interacted with role models throughout the event, including former Australian rugby union 7's player Matt Sonter and Black Diamond Claude Williams.
"We'd like to give a big thank you to the local organising committee and our local sponsors," Mayrah Sonter says. "Without their help, the day would not be possible."
Local sponsors included BHP, Wirrika Maya Health, WA Country Health, the Town of Port Hedland, Spirit Radio, North West Telegraph, the WA Food Bank and Woolworths, Bullbuck Transport, Golden Eagle Airlines, Jayrow Helicopters, Relationships Australia, The Hood, YOU – Youth Opportunities Unlimited (overnight security and help with setup) and Harvey Norman.
The Vibe 3on3® would also not be possible without its sponsor the Department of Health and Ageing, through the Office of Aboriginal and Torres Strait Islander Health, and Vibe Australia. Supporters include the Koori Mail, Deadly Sounds and Deadly Vibe.