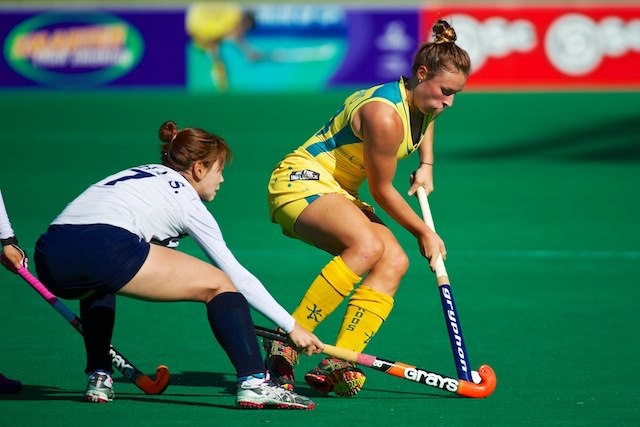 Talented young hockey player Mariah Williams will jet off to Perth in coming weeks to begin her training with the national senior squad of the Hockeyroos.
Preparing for the big move
Currently recovering from knee surgery, the 18-year-old is taking some time off post-HSC exams to recover while she waits to find out when she's officially making the big move.
"I'm finding out when I'm moving to Perth in the next week, and I've just had knee surgery so I'm still rehabbing at the moment," she says.
"It's not too good but I should be back in December. I've got a couple of tournaments next year that I'll be getting ready for."
Though her family is based on the east coast of Australia in the Hunter region, Mariah said the decision to move to Perth was not a hard one.
Most Promising New Talent in Sport Deadly winner
"In a way I guess it was (a hard decision) but in the end hockey is what I want, so I guess it's just 'go with it'. If that's what gets me in the national squad then that's fine."
Mariah's sporting achievements were recently celebrated at the 2013 Deadly Awards at the Sydney Opera House when she won Most Promising New Talent in Sport.
"It shocked me when I got there. I didn't realise how big the Deadlys was and then they said the category and then they said my name, and I was just fully shocked and surprised. It was really great, I liked it a lot," Mariah says.
"Mum spoke to me beforehand and said 'now Mariah don't be upset if you don't win it' and I was like 'okay mum'. Then I won it and she grabbed my hand real quickly and squeezed it real tight before I got up.
"When I got back to her she was overwhelmed, she was just so happy."
The only way is up for Mariah
In 2008, Mariah was selected to play for the NSW U13s Girls Hockey team, and has since gone on to play for her state at the U15, U18 and U21 levels.
In 2010, Mariah won a national title with the NSW U15 team, and finished the tournament as leading goal scorer.
In 2012, Mariah received a hockey scholarship to the Australian Institute of Sport. She also made her national level debut, playing for the Jillaroos in the Super Nine Series and also the Australian Youth Olympics Festival.
In 2013, Mariah played in the Jillaroos Oceania Junior World Cup Qualifiers and was named Lake Macquarie Sportswoman of the Year.
She also made her debut for the Hockeyroos, the senior Australian women's hockey team and was a member of the Hockeyroos squad, which toured Japan.