The momentum that has followed the Deadlys – the annual celebration of Aboriginal and Torres Strait Islander achievement in music, sport, arts and community – began with the foundations on which the Deadlys are built. They were, and still are, strong foundations.
"Yes, the Deadlys are black Australia's glitz and glamour event, but there is also a very serious message and reason why the Deadlys exist," founder and executive producer Gavin Jones says.
"The Deadly's deliver a strong and healthy message to the Aboriginal and Torres Strait Islander community. In some way, the Deadlys aim to undo the ongoing intergenerational feelings of low self worth and low expectations. We want Indigenous Australians to reach their highest potential and the Deadlys can contribute to this.
"It's also wonderful to see our beautiful brothers and sisters on the night and the depth of our talent. It is so much more than an event – it's true togetherness and when we stand together there is an overwhelming sense of sustainable hope for the future."
The Deadlys began as the first birthday celebration for the Deadly Sounds music, arts and cultural radio show. That first celebration was held at Redfern's Boomalli Aboriginal Artists Cooperative. They've now been held at the Sydney Opera House for 12 years, this year.
"I was deeply interested in Aboriginal and Torres Strait Islander music at the time – I still am," he says. "Back then about the only Indigenous band people recognised was Yothu Yindi, and I knew there was so much more. So I bit the bullet and started the radio show Deadly Sounds.
"In those days Leah Purcell was just starting out, Christine Anu was a young unknown and the Bangarra Dance Theatre had yet to make its mark. That needed to change.
Thus, the Deadlys were born out of Deadly Sounds.
"They really came about as a way of celebrating the first anniversary of the radio program," Gavin says.
"It all took off in stages from there. Back in 1994 at the first Deadlys there were just seven award categories based around music. Today, we've got 28 categories celebrating Indigenous sport, entertainment and community as well as music.
"Frankly, I never thought it would go as far as it has. It just underlines how much our own people – and the rest of Australia – have been starved of legitimate positive images and stories about Indigenous people."
And it's the recognition provided by the Deadlys that gives Gavin his greatest satisfaction.
"Like the whole Deadly Vibe organisation, I see the Deadlys as a vehicle to empower our people," he says.
"Indigenous health is a disgrace, but I see our work as a way of improving this. If people are proud of who they are and where they come from, then that will lift their self-esteem. And that can only lead to better health."
The Deadlys is produced by Gavin and his team at Deadly Vibe. It's a backbreaking job to stage such a big event but it is driven by a powerhouse of commitment.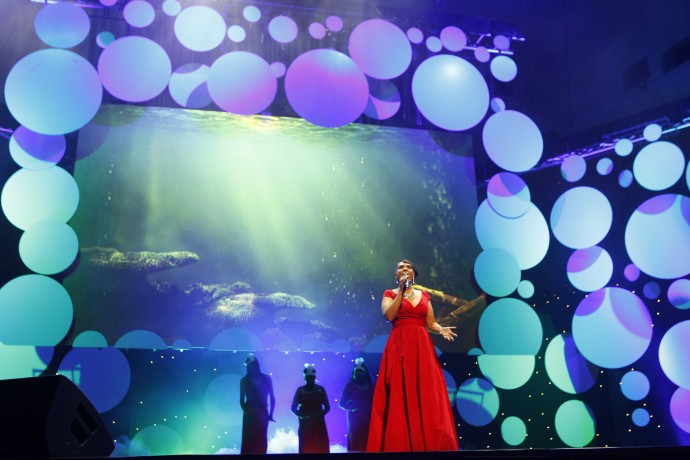 It's glamorous, it's definitely feel good and it's a night to celebrate Aboriginal and Torres Strait Islander talent and achievement. But scratch below the 20th Deadly Awards surface and you'll find a deeper reason for the Deadly's existence.
"I say it's a labour of love, but it's a beast of burden too. It's excruciatingly hard work for me and my team and there is never enough time and never enough money, but it is a lovely gift to Indigenous Australians every year," he says.
"Each year we learn a few lessons, have our triumphs and a few humiliations, but it is not too often we've had to learn the same lesson twice. And our show becomes tighter and sharper each year."
The Deadlys success is also largely due to the strength of support it receives from the Indigenous community and the Australian Government, through the Department of Health. In 2012, McNair Ingenuity Research Independent research found that 8 in 10 Indigenous adults (83%) have heard of the Deadlys and, of those, around 7 in 10 (71%) have watched the Deadlys® on television.
"McNair tells us that our people support the Deadlys for a variety of reasons, but primarily because it is a wonderful celebration of Aboriginal and Torres Strait Islander achievements; because it 'makes us proud'; 'it helps make our culture healthy' and 'it unites us'," Gavin says.
"We've had unprecedented interest in the Deadlys in 2013 – 95,000 people have voted for their favourites.
"When we started, the first Deadlys was at Boomalli – it was then in Redfern. Now it's at the Opera House and we've got TV coverage by SBS and the lot."