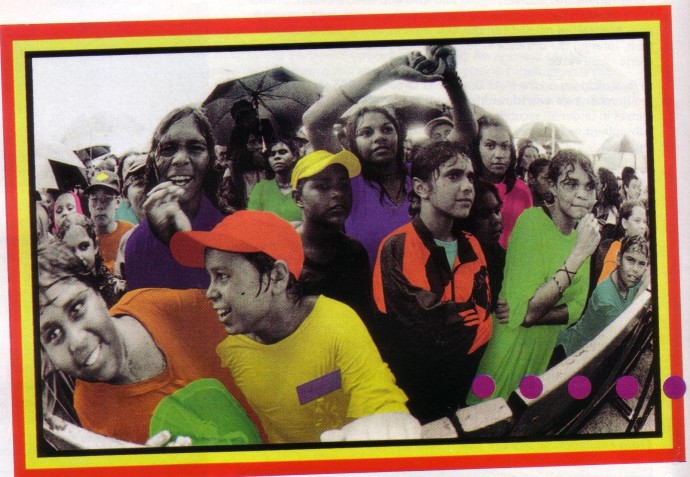 In January and February Australia enjoys a very special feeling. That feeling is festival fever, and it hits us all over the country in all shapes and forms. This month Deadly Vibe takes a closer look at just a couple of festivals, which feature Aboriginal music and culture.
The fifth annual Barambah Beltout festival will be held at the Murgon Showgrounds in Murgon, Queensland on Friday night 6 February and Saturday 7 February 1998 from 1:00pm. Since making its debut at the Cherbourg Aboriginal Community in 1994, the festival has been held in neighbouring Kingaroy and Wondai in 1997 and 1996 respectively. Over the last four years, Barambah Beltout has served as an ideal vehicle for introducing young Indigenous Australian performers such as 'Aim 4 More', 'Serenity', 'Wakka-Wakka' and 'Wakka-Gubbi' dancers and others to the broader society.
Mr Ade Kukoyi, Executive producer of Daki Budtcha in Brisbane, the major sponsor of Barambah Beltout said "the festival has served many useful purposes in the last four years. It has promoted positive role models not only to the younger people, but also the broader Australian society. It has fostered better race relations and understanding among people of different cultural backgrounds in the region and has become a launching pad for the careers of lesser known artists."
The 1998 festival will feature a mixture of traditional Aboriginal dance, music, poetry, story telling, karate demonstration, line dancing and art exhibition. A major aspect of the 1998 festival will be the "Emerging Artists Showcase" concert featuring Indigenous hip hop/rap group Native Rhyme Syndicate, Culture Shook, The Woodheads, Muddy Flats, Andy O'Chin, Lionel Fogarty and some other local groups from the South Burnett region. The first ever Barambah Beltout CD featuring various Indigenous and non-Indigenous artists from the 1998 festival is planned for release by the middle of the year. There will also be a fashion parade by Aboriginal youths, spearheaded by Aboriginal model Rosemary Pott, exhibiting Jubba Aboriginal Designs by Junne Hauser and other fashion wear by Jeri Reddoch Australia. The festival will conclude with a spectacular fireworks display.