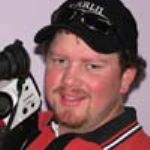 v >Deadly Vibe Issue 78 August 2003
Between studying video production and documentary film-making in Sydney and working on film projects across Australia, Aaron Hall has barely had a chance to relax.
So far, the Northern Territorian's involvement in film has taken him from Darwin, where he produced corporate and tourist information videos, to Western Australia where he helped shoot the Stomping Ground festival.
He's also spent time in the heart of the country, where this time last year he was working on the set of the recently released feature film Cold Turkey. Aaron has just returned home to Tennant Creek after helping to shoot a music video for the band High Tide, as well as wrapping up work on storyboards for a range of cultural videos.
While he's been involved in film for only three years, Aaron has managed to work on a variety of different projects. He says he's discovered a particular passion for documentaries.
" I just recently finished a four-week documentary on an old Tennant Creek man who had been a drover in his youth, back in the days when men like him were paid with flour and sugar," he says.
With so much work already behind him, Aaron seems to be on a roll, with many film opportunities and concepts for him to tackle in the future. His goal is to make high-quality information videos and documentaries.
" I'm planning to write and produce a story-based documentary on my home town, Tennant Creek, and the lifestyle of the people here," he says. "It will be a pretty hard-hitting reality type of film."
Like many Indigenous film-makers and writers, Aaron draws his inspiration straight from his country and people, and it is the issues that affect those closest to his heart that he feels most passionate about.
(Story 1/08/2003 end)