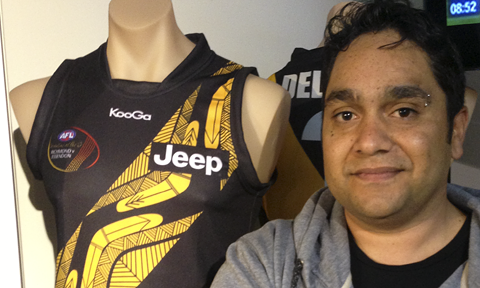 For artist Nathan Patterson winning the design for Richmond's Dreamtime at the G's guernsey felt dreamlike but the reality is, it will be seen by millions of AFL fans and lead to deserved recognition of his work.
Nathan won out of more than 100 submissions and was honoured to be chosen as a semi-finalist. When he found out he'd actually won the competition, he was overjoyed. "I was pretty excited. I couldn't believe it when they told me I was a semi-finalist and I was just over the moon when I found out I'd won," Nathan says. "It's going to be pretty surreal seeing the boys run out in my guernsey. I think it's going to be even more of a spin-out seeing fans walking around in it before the game."
His design features five boomerangs that represent the five tribes of Melbourne region's Kulin Nation and the lines symbolise tribal land boundaries and the winding of the Yarra River. "The original idea behind the design was to celebrate the traditional game of Marn Grook and to represent where the game's played – the MCG in the middle of Melbourne, right next to the Yarra River and representing the Kulin Nations," he says. "I thought it was important to go back to the roots of the game," he says.
Nathan has been painting since he was 15 years old and hopes this milestone will open up new avenues in helping help him start a business and make art his sole career. "It's a big thing for me; I've been painting since I was 15. I've sold a lot of artwork; I'm trying to start a business up at the moment and it's a great opportunity to get some advertising. "I hope it opens up new avenues. In the long term, I'd like to be a full time artist and not have to work as well as paint," Nathan says. He is the winner of five reserved seats, a framed guernsey signed by the Captain and Coach and two tickets to the President's pre-game dinner function. Most importantly, he will see his guernsey worn by thousands of spectators, and the Richmond Tigers. You can check out some of Nathan's artwork at https://www.facebook.com/NathansArtPageO. Caption: Nathan Patterson with his winning Richmond guernsey design.