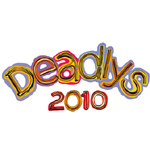 It's a show with some of the biggest names in Australia's music and arts scene and it's shaping up to be very Deadly!
With only a few days to go until Indigenous Australia's premier event at the Sydney Opera House on Monday 27 September, the 16th annual Deadly Awards, there is the unmistakeable air of a major show in production.
The list of powerhouse performers is both impressive and reflective of the 'year that was' for Aboriginal and Torres Strait Islanders.
The show opens with former Deadly winner, musician and balladeer Frank Yamma who will perform with prominent Australian musician, David Bridie. The rising star of Melbourne singer/songwriter Dan Sultan can be seen throughout the evening, as can the legendary multi ARIA and Deadlys winner Archie Roach, who will be performing a tribute to his late wife.
Ali Mills burst onto the Australian music scene with significant traction earlier this year, and will perform her hit song Waltjim Bat Matilda at the Deadlys, a unique remake of that great Australian classic "Waltzing Matilda".
The iconic Christine Anu, a great Australian role model to all Australian women, will perform her new single for Deadly audiences and the internationally acclaimed Bangarra Dance Theatre perform an ensemble piece from their latest commission.
Deadly Executive Producer Gavin Jones says the 2010 Deadlys Awards show will be spectacular entertainment and different from previous shows.
"The underlying spirit of the show is always defined by what is happening within our Aboriginal and Torres Strait Islander community. This year is quite different because it's been a different year in the Australian the arts and music scene," he says.
"The highest standards of performance Australia's got to offer, as well as a celebration of Indigenous achievement and culture, is central to the 2010 Deadly show. And it promises to be a rollickin' good show!"
Don't miss your opportunity to be a part of the Deadlys this year! Tickets for the 2010 Deadlys ($45 or $30 concession) are available from the Sydney Opera House. For more information, visit www.sydneyoperahouse.com
In 2010, the Deadlys begin with a Sunset Award event in the northern foyer of the Sydney Opera House at 5.30pm before the mainstage event in the Concert Hall of the Opera House at 8pm.
The National Indigenous Music, Sport, Entertainment and Community Awards, aka the Deadlys, will be broadcast on SBS on Sunday October 3 at 10.30pm on SBS and Wednesday October 6 at 8.30pm on SBS Two.
The full list of 2010 Deadlys Finalists and Community Award Finalists and Biographies and Deadly Awards' news and updates can be found at www.vibe.com.au/deadlys
For media enquiries, please contact Maryann Weston on (02) 4822 8230 or [email protected] or Emily Murphy on 0438 866 020