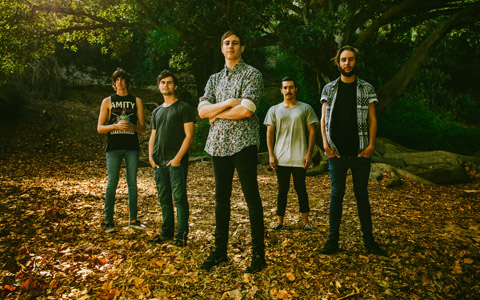 A hard core band from Byron Bay has donated their time and skill to raise money for one Australian not-for-profit Aboriginal and Torres Strait Islander organisation, and two international organisations.
The single, 'Skydancer' has so far received more than 22,000 views on the band's [In Hearts Wake] YouTube page in a matter of just eight days.
Not using a set price, the five band members are asking people to pay what they would like to pay for the track, all of which will go to the three Indigenous organisations that have been selected to receive the funds.
"The charities were really excited that we were doing this. Not so much from a money point of view but the raising awareness, that's really where the excitement and the hope comes from I guess," says band member Jake.
"Even if this campaign was to raise five dollars instead of however many amount of dollars, it's not so much about money as the awareness thing and that message."
The Central Australian Red Dust Role Models organisation delivers health promotion programs based on six key outcomes; building knowledge and skills, assessing and supporting the provision of resources, providing and building leadership, fostering positive relationships and advocating for supportive environments.
The two other organisations are the international Seventh Generation Fund for Indigenous Peoples in the USA and the Hardcore Help Foundation – a social club based in Germany that has been built on the common interests of hard core music and helping people.
The song itself was inspired by a documentary about Native American ironworkers contracted to build the skyscrapers in New York City, one of the most dangerous jobs in the world.
Online they've been receiving mainly positive feedback about the song itself; however everyone is seemingly impressed with the meaning behind the lyrics.
"We weren't attempting to release a world class single. We're happy with it. We wanted it to be done from the grassroots, done here in our home area. The whole thing was kind of a DIY approach; really organic and real," Jake says.
"We love the song itself and we'd probably like to re-record it for an album in the future, which is not 100 per cent certain. It would be cool to have it on CD as well."
To learn more about the project or to purchase a copy of 'Skydancer' head over to www.skydancerproject.com