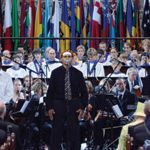 Deadly Vibe Issue 110 April 2006
A Royal Occasion
Saltwater Band says "Nhämirri nhe"* to Her Majesty the Queen.
STORY: The fellas from Saltwater Band from Elcho Island were invited by the Prime Minister to open the procession in a special service at Sydney's St Andrew's Cathedral for Queen Elizabeth II while she was visiting Melbourne for the Commonwealth Games.
"The boys played a traditional flag song to welcome the Queen,' says Michael, the band's manager. "As she entered the cathedral and walked down the aisle the yidaki (didjeridoo) started playing, followed by traditional singing and dancing."
Manuel Dhurrkay and Geoffrey Yunupingu then played Let's Work Together from their album Blue Flag.
"It filled the cathedral with pious and ceremonial reconciliatory tones and harmony," Michael says. "When Geoffrey's voice entered with the harmony it sounded like an angel had arrived."
They were then invited to meet the lady herself afterwards at a special invitation-only event at Admiralty House (the Governor General's House).
"The Queen came and met Manuel and Geoffrey afterwards and complimented them on their voices," Michael says.
The special performance was part of a major tour the band embarked on in March for WOMADelaide, Adelaide's international music festival that annually attracts performers and festival-goers from around the world.
Their itinerary included performing as a headline act at WOMADelaide with the likes of reggae great Jimmy Cliff, a performer they love and admire.
Their tour then took them to Sydney for the Queen's special service, and then on to Melbourne where they played five concerts as part of the 2006 Melbourne Commonwealth Games Cultural Festival.
*Yolgnu for "How are you?" (pronounced: nar midi nee)
(story 1/4/2006 end)
Deadly Vibe Issue 93 November 2004
Saltwater snaps up Deadly
All the way from the Top End to Bennelong Point on the shores of Sydney Harbour, Saltwater Band travelled across the country not only to play at the 2004 Deadlys after-party but to pick up a Deadly themselves for Album Release of the Year.
Saltwater Band consists of eight Elcho Island men. Their unique music, which combines reggae with other genres, traditional language and culture, has made them one of the most admired and successful Indigenous bands in Australia.
After their stellar debut album, Gapu Damurrun, Saltwater made fans wait for four years for their second release.
When Djarridjarri/Blue Flag was released, it received widespread acclaim and showcased the Saltwater sound, which features beautiful and soulful harmonies fused with influences from both modern music and the spirit of the Gumatj people, language and culture.
Now the band's triumphant second coming has been rewarded with a Deadly for Album of the Year. The band also had a great time backstage, where they met Cathy Freeman and got her to autograph the shirts they were wearing.
After collecting their much-deserved Deadly for Djarridjarri/Blue Flag, Saltwater headed straight to the after-party, where they played some of their award-winning music to both old and new fans.
(story 1/11/2004 end)
Saltwater Band
The eight-member Saltwater Band from the remote Elcho Island, off the coast of north east Arnhem Land, have gained immense success with their debut album, Gapu Damurrun. Their music is reggae in style beautifully weaved throughout with stories of Gurrmul history.
Through their music the band hopes to pass on to the younger members of their communities their traditional stories and values. This way their culture can survive from one generation to the next.
With their first major tour behind them the Saltwater boys took their unique harmonies and powerful songs to Broome for Stompen' Ground 2000 and became an instant favourite in the process. They also managed to clinch their first live national TV exposure. From Stompen' Ground a couple of the members travelled to Sydney to be in attendance at the 6th National Deadly Sounds Aboriginal and Torres Strait Islander Music Awards.
Prior to their mammoth Broome performance, the band had been quite busy. They performed at Corroboree 2000, Warumpi's Farewell Concert at Darwin Amphitheatre and completed their "Black and Beyond" bush tour, playing to capacity crowds at venues from around Australia.
Saltwater are poised to be the next big thing in contemporary Aboriginal music, and a strong touring program in 2001 will be the next step in achieving national recognition. Coming up, fans can catch them on their Desert Reggae Tour, as well as a soon to be released album, featuring their new track, "Saltwater Reggae". So keep your ears and eyes open and your feet a floatin'.