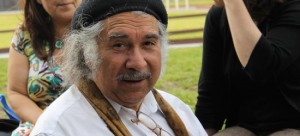 Djon Mundine is the curator of an exhibition that celebrates the impact of Bungaree, the Aboriginal guide and interpreter, on colonial life. The exhibition Bungaree: the First Australian is on at the Mosman art gallery in Sydney until 25 November.
Deadly Sounds: Many of us have heard of Bennelong and Pemulwuy, but Bungaree isn't as well known. Tell us how you came to curate this exhibition.
DJON MUNDINE: Aboriginal people owned all of Australia. They owned Sydney and it is not just about people being on Bennelong Point, or in Redfern, we were all over the place, including Mosman and the North Shore.
DS: He was granted a piece of land at Georges Heights.
DM: Yes – that's when they were trying to get Aboriginal people to become like white people. They tried to make them into all of these things instead of just talking to them. He was actually given back part of his own land and then they wondered why he didn't want to become a farmer – but he handled it all right.
DS: Yes, he was incredibly resilient and many people came to know of him as King of the Broken Bay Tribe. There's a variety of visual artists, who employ various mediums in this exhibition.
DM: I have worked with many artists over the years, from the north or the desert or the Kimberley, but this is an east coast story, so the majority of artists I have used are from the east coast and Sydney. They use lots of different techniques. Peter McKenzie wrote a song about Bungaree. Leanne Tobin did an installation – the footprints in the sand. Other people did photographs, people carved trees to represent him. It was a whole gamut of things to represent him.
DS: He lived between two worlds, but there was a real sense of humour and flamboyance about him.
DM: He was a comic. He used to mimic all the Governors. He lived through about four Governors and he could mimic them and make fun of them. The white people loved the fact that he made jokes about the Governors. He was really liked by white society and admired by Aboriginal society. He was defeated when everything became colonised, but it posed the question – what should he have done? Should he have opened his mouth and got his head blown off or what? How could he do anything different?
DS: It was quite an extraordinary time when you think of it – what was his language group?
DM: He was from up near Patonga. He was a Guringai person. Bungaree means "man of that group". People would have walked all over these places. People shouldn't be thought of as being tied to one place. People did interact in what's now called the Sydney district.
DS: You have done so many exhibitions worldwide. How did you come to curate this one?
DM: John Cheeseman, the gallery's director, used to be at the Blacktown Gallery and when he came to Mosman he asked me if I would be interested in exploring the Aboriginal history of the north shore, but using people from the east coast to tell that story.
DS: Do Bungaree's descendants still live on the land he was given?
DM: No. We wish. He used to see boats in the harbour and he would row out to them and say "these are my people" and this is my shoreline here and in effect that is like the first native title claim. He does have two families who say they are the direct descendants of Bungaree – that is up to them to how they pursue that legally or otherwise. We owned all of Sydney, so we shouldn't just lock ourselves into one place or another. We should think of it as a wider social area that we operated in.
DS: It certainly was a wider social area, with canoes coming across to the areas around Farm Cove for ceremonies and things. There was a lithograph produced of his image….
DM: Yes, the first lithograph in the colony. There are 18 images of him. There are more portraits of Bungaree than of all the Governors put together. He was very well known and him saying, "I am king here" is a very important first statement to make. He impressed people and that's why they sketched him.
DS: The Bungaree exhibition has works by 15 Aboriginal artists. If you get a chance, go and have a look. As Djon mentioned, there were 18 original images of Bungaree and it's quite interesting how they depicted Aboriginal people in those old colonial prints – sometimes they look exotic or completely different in each one. With those 18 images, Djon, did he look the same in all of them?
DM: The most famous ones are where he is shown wearing a red coat, hat and a 'king plate' (a crescent-shaped breastplate given to esteemed Aboriginal leaders) – the king with his king plate. He must have been one of the first people to be given one. He seems to be saying, "Welcome – this is my country and these are my people." Other portraits by Charles Rodius and other people, such as Russian sea captains who were artists, painted him without a shirt on. Usually people are shown naked but he is shown in a regal dress. That is a really good image to present rather than another representation of him as a primitive person. The exhibition will travel to 12 places around Australia next – retracing the voyage he took with with Flinders.
See the exhibition at the Mosman Art Gallery, cnr Art Gallery Way and Myahgah Road, Mosman, Sydney, until November 25, then tours nationally until 2015.
For more information, see www.mosmanartgallery.org.au