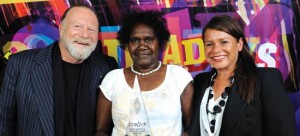 Aboriginal and Torres Strait Islander Health Worker of the Year, Muriel Jaragba is passionate about her work in mental health on Groote Eylandt. After a decade of working with her people, her commitment and drive to help those with mental health 'sickness' is just as strong as it was when she started.
"What drives me in my role is that I want to be a role model for my community, and I want to help my community with mental-health sickness – to teach them the right way and help them lead a better life," Muriel says.
"I could see my people experiencing mental-health problems that they did not know how to get through. I am proud to be able to help and work with my people to improve their mental health, and I'm happy I was chosen to be one of my community's mental-health workers a decade ago."
Muriel won the Deadly Award for Health Worker of the Year in front of a capacity crowd at the Sydney Opera House on 27 September. She is a proud Anindilyakwa woman, born in the Angurugu community on Groote Eylandt, Arnhem Land. She works from the Angurugu Clinic on Groote Eylandt on health programs and services that are "making a difference".
"From our health-promotion work, we have been working to make sure that many people in my community know about different sicknesses and how people can get sick. People in my community do not have English as their first language. We also have a different world view, and many traditional practices and concepts are alive today," she says.
"To use the example of someone who might be hooked on tobacco or ganja – if something happens to that person like a heart attack from smoking or psychosis from heavy ganja use – before we started doing this work, many people would see these kinds of sickness as being because of black magic. Sometimes this might be the case, but sometimes it was because of their smoking cigarettes or ganja.
"Now from our research and health promotion – our people are starting to have more understanding of how drugs and alcohol may make some people unwell. Having this health information presented in our language and our concepts (with our collaborators Dr Kylie Lee from Sydney Uni and David Hansen from The Perfect World)
is key to helping our people understand these important health issues.
"Another key part of what we are doing is that our people lead these health-promotion projects, so we decide on when and what health issue is tackled next."
Muriel works with patients on the mental-health list, with a visiting psychiatrist and mental-health nurse. She also talks to and counsels anyone who wants help dealing with mental-health issues.
"I see individuals as well as families, and I also help run groups for young people and women. A key part of my work is combining western medicine with traditional Anindilyakwa ways. I make sure families know what is happening for their family member and, if medicines are prescribed, that they are aware of what side effects they might have," Muriel says.
In the coming 12 months, Muriel will be working on further research with close collaborator Dr Kylie Lee on how traditional Anindilyakwa ways can help those who are hooked on cannabis and they will be using this research to make films to help the community understand the impacts of substance abuse.
"We have been asked by the community to make another two films next year," says Muriel. "The last one we made called Anija was received very well here. There is always a lot to do."
Muriel is fluent in three Aboriginal languages and helps many clients and their families across several communities. It's a job she loves.
"We have three communities (and several smaller family outstations) on our land: Groote Eylandt and Bickerton Island. Angurugu is the largest community and has about 950 people or so. Umbakumba is the second largest community and has about 450 people or so. Milyakburra on Bickerton Island has about 120 people or so," she says.
"My island is very beautiful. We are saltwater people, so we hunt and swim and eat lots of things from the sea, such as dugong, fish, mud mussels, turtle."
Her achievements have been nationally and internationally recognised, with her groundbreaking substance use and mental-health research efforts nationally recognised with a finalist nomination in the 'Research' category at the 2010 National Drug and Alcohol Awards. The 2011 Deadly Award was also recognition for the work of Muriel, Dr Kylie Lee and the Angurugu Clinic.
"I am proud of our achievements on Groote Eylandt. There are good changes in my community, and we couldn't have done it without working together," she says.