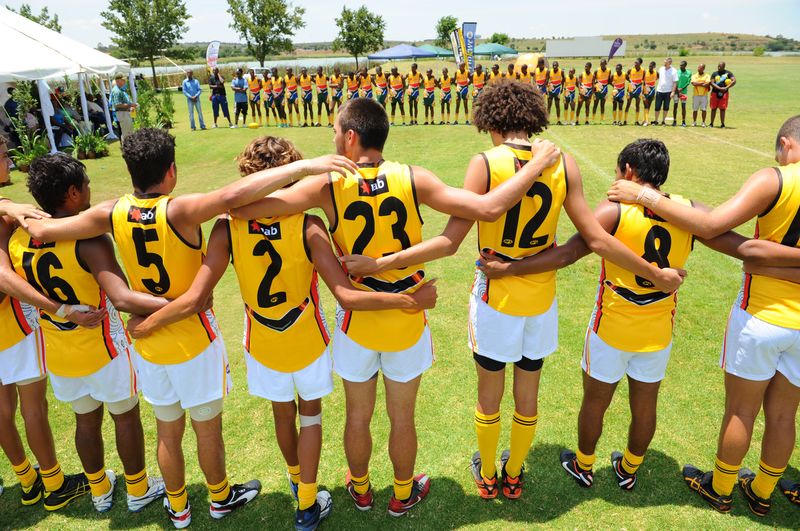 A documentary on the Flying Boomerangs tour to South Africa will air on NITV on Thursday, November 7 at 9pm, following the squad of 25 as they show just how deadly they are to the world.
The Flying Boomerangs is a personal development and leadership program for Aboriginal and Torres Strait Islander young men aged from 14-15 years-old, supported by the Coles AFL Indigenous Program.
NITV accompanied the Flying Boomerangs to South Africa in January this year where the squad of 25 played two matches against South African teams in Potchefstroom and Durban, coached by former St Kilda player Raphael Clarke.
Kris Flanders and Adam Evans from NITV filmed and produced the documentary giving a detailed account of their travels along with the many cultural experiences that was part of the Flying Boomerangs tour.
The highlights of Flying Boomerangs include the squad visiting Soweto, Table Mountain, Robben Island, Lion Park and conducting a footyWILD clinic in Cape Town township.
AFL National Head of Diversity and International Jason Mifsud and AFL Indigenous Programs Coordinator Xavier Clarke also toured with the group.
"The Flying Boomerangs squad is made up of the best rising Indigenous talent in the nation and these young men were given the chance to represent their country, while showcasing Australia's game in South Africa when they played two exhibition matches against local teams," Mr Mifsud says.
"NITV captured the development of these young men, as they experienced triumph, faced challenges and were confronted by South African culture, while learning more about their own identity and Indigenous Australia.
"Throughout the tour the players were exposed to elite training, as well as many cultural experiences which were focussed on addressing the four core pillars of the program; Resilience, Identity, Decision Making and Communication."
NITV Sport Executive Producer Mark Ella says the Flying Boomerangs tour to South Africa was a special occasion.
"NITV is proud to have been invited by the AFL to take part on this tour and having the opportunity to be with the next generation of outstanding young athletes who have done their families and communities proud," Mr Ella says.