If you haven't already tuned into NITV's latest food show Kriol Kitchen, you can catch Episode Three next  Wednesday at 8pm and join sisters Ali and Mitch Torres as they cook up the fresh tastes of Kriol cuisine accompanied by a yarn or two.
The sisters invite special guests to divulge recipes inspired by their rich Kriol lineage in the culturally diverse northern part of Australia, a melting pot of Aboriginal Australian, Malaysia, China, Japan and the Philippines influences.
"Kriol Kitchen makes the connection between cuisine and Australian history, showing just how fragrant Australia is with diversity and culture," said NITV Channel Manager Tanya Denning.
Sometimes revealing long held family secrets, the guests impart some deadly recipes featuring liji liji, coral fish and bush fruit, seasoned with flavours such as lemongrass, chili, ginger and coriander, while sharing the stories of their mob along the way.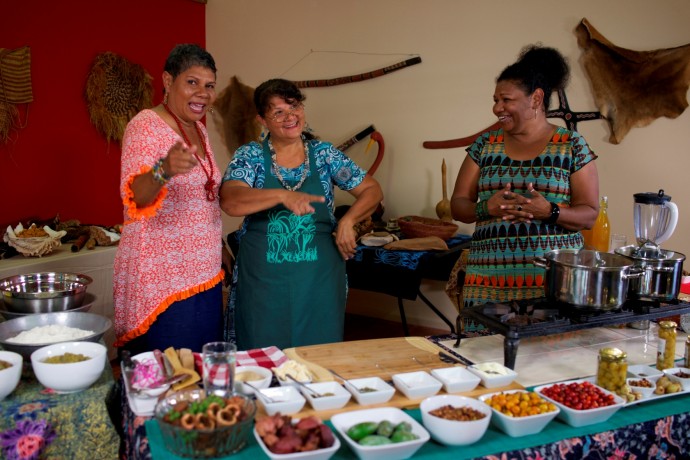 "I have always wanted to do a cooking show because I love cooking so much, especially for my family and friends," says Kriol Kitchen Director Mitch Torres. "The food that I have grown up on is pretty special and it is infused with so much history and cultural and family stories that I have always thought that the merging of all these elements would make for a very different cooking show."
In Episode Three next Wednesday, under the guidance of Lexie Tang Wei, daughters Amy and Carol and granddaughters Lauren and Marli make their famous Chinese Long Soup from scratch. This recipe holds a special place in the lives of many Broome families who would purchase the soup from Mr Tang Wei's restaurant right up to when he closed down.
Deadly Vibe Wire will feature a recipe from Kriol Kitchen each week, and Mr Tan Wei's Chinese Long Soup is featured today in Deadly Vibe Wire's weekly cooking segment What's Cookin This Weekend. Over the coming weeks, we'll bring you more recipes from Kriol Kitchen and let you know what's coming up on the show so you can tune in and get your taste of Kriol.