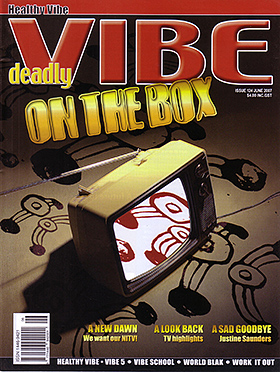 DV Issue 124 June 2007 
Even if you're lucky enough to have pay TV, you'd be hard-pressed to find many Aboriginal or Torres Strait Islander programs to watch. Currently, Indigenous content broadcast across all Australian media takes up an average of less than two hours per week, or 1.2 per cent of all programming!
But next month this is all going to change. National Indigenous Television Limited (NITV), Australia's first national Aboriginal and Torres Strait Islander broadcast service, will be launched by the Federal Communication Minister Helen Coonan on July 13.
"Indigenous Australians have advocated for a distinct Indigenous television service for over 25 years," says Pat Turner, NITV CEO. "Indigenous Australia does not have a high profile on Australian television. There is little Indigenous produced content on television, particularly on commercial and pay television."
"For Indigenous Australians, and particularly for our children, we simply do not see enough Indigenous content on our screens. And the stories we do see are framed by news values – conflict and negativity."
NITV aims to inform, entertain and educate all Australians, not just the Indigenous population. By showcasing Aboriginal and Torres Strait Islander cultural practises, lifestyles and stories, NITV can help to raise awareness of Indigenous issues, preserve language and promote the diversity of our identities and cultures.
The cannel will initially be broadcast through Imparja Television's second channel, Channel 31, with satellite transmission beaming to an estimated audience of around 220,000 people in remote, rural Central and North West Australia and to parts of Victoria, New South Wales and Tasmania.
NITV plans to extend this reach to wider audiences across the country through pay TV providers and free-to-air broadcasting, and ultimately aims to become Australia's third national broadcaster.
So what kind of programs can we expect to see on NITV?
The first program to air will be a documentary produced by the filmmaker Julie Nimmo about National Indigenous Television and the history of Indigenous broadcasting services.
"Our first priority is documentaries, followed by children's programming," says Paul Remati, NITV Director of Television. "There's currently a lack of Indigenous children's programs for primary and high school students."
Programs will cover a whole range of interests and needs, including arts, music, sport and drama as well as health and education, language and news and current affairs. NITV aims to broadcast as much local content as possible, in a variety of languages.
"Television remains one of the most powerful and pervasive means of communication in today's world," says Paul.
"Our mission for NITV is to celebrate and reflect the richness and diversity of Indigenous Australian cultures and deliver innovative, entertaining content to audiences throughout Australia and around the world."