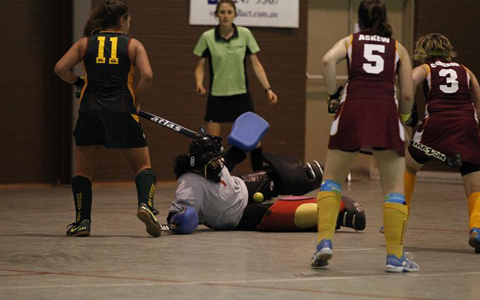 From the age of 16, Roberta Walton dreamed of representing Australia on the hockey field. Roberta has achieved her dream, having recently been selected play in the Australian Indoor Team for the 4 Nations Tournament in Singapore later this month.
But a determined Roberta isn't quite finished yet, the 4 Nations Tournament is a major stepping stone in reaching the World Cup in Germany in February 2015, her "final goal".
"I am proud to say that I am the first Aboriginal Woman to represent Australia as a goalkeeper and will again, fly our flag proudly on my goalkeeping gear as I have done for many years," she says.
"It is through all of the years, blood, sweat and tears, that I encourage all of our people to never give up on their dreams.
"Never let them go and never lose sight. It may take longer to achieve certain goals but when you achieve them, it makes it all the more rewarding."
Roberta's path to hockey greatness started at an early age when she discovered she had quite a knack for defending the goal.
She played in her local association in Tasmania and represented them at country week for 10 years before being selected for the All Stars Team at Country Week in 2000. From here she was selected to play in the Australian Country Championships in 2001 and 2002.
Roberta began to fill in as goalkeeper in the Hockey WA Premier League in Perth when their Australian goalkeeper was absent.
Her skill didn't go unnoticed, as the following year she was offered a fulltime goalkeeping position, an offer she couldn't refuse. She went on to play over 100 games for the club, becoming the first, and only female goalkeeper to play that many games for their league team.
In 2003 she was selected to play for the WA Diamonds Squad but unfortunately did not make the cut. This is when Roberta switched her dream from outdoor hockey to indoor hockey.
She was in the 2004 WA Indoor Squad but due to injury four weeks prior the nationals, didn't make the team.
"With grit and determination I worked harder and for the next five years I was fortunate in representing the WA Indoor Women's team at the Australian Indoor Hockey Championships," she says.
In 2006 and 2007 she was awarded Hockey WA Goalkeeper of the Year for the Outdoor season Premier League for being the highest polling goalkeeper in the medal count. She was also awarded 2007 WA NAIDOC Sports Woman of the year.
"During this time I never lost sight of my goal of playing for the Australian Indoor team and kept working hard at achieving this dream."
"I was part of the WA team in 2007 and again in 2009 which finally broke through and won our first Australian Indoor National Championship Gold Medals."
In 2011, she was selected to play for the WA Diamonds outdoor team in the Australian Hockey League, where they won bronze in Darwin.
After retiring from Indoor in 2010 she made a triumphant return in 2012/13 and represented the Tasmanian Indoor Team at Australian Indoor Hockey Championships, and was awarded the Player of the Tournament
"As a goalkeeper I had never set myself this goal because it is rare for to receive such an accolade in that position," she says.
"I'd like to thank my three beautiful children who have sacrificed so much and my parents. Without their support I could not have achieved any of what I have."