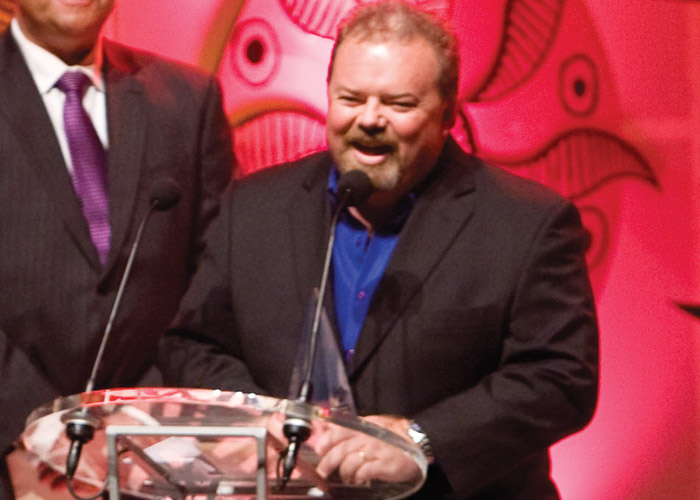 The winner of the Outstanding Achievement in Aboriginal and Torres Strait Islander Health Award was typically humbled at the recent 16th annual National Indigenous Music, Sport, Entertainment and Community Awards (aka the Deadlys).
"I work as a general practitioner at Tobwabba Aboriginal Medical Service for the Worimi people and I get up each morning, go to that job and feel so honoured to be able to do that work – to get straight into the depths of people's lives and make positive change," he said in his acceptance speech.
Dr O'Mara is a Wiradjuri man from central New South Wales who has worked as a general practitioner in an Aboriginal community-controlled health service for nearly 10 years.
Like most Indigenous doctors today, Associate Professor O'Mara did not take the conventional road to medicine. He had an established career in the Hunter Valley coal mines as a fitter machinist before deciding to become a doctor.
"When things got hard [with study], I would recall a conversation with my grandmother back when I was about eight years old where she convinced me that I could do anything I wanted in life. That talk was, and is, never far from my mind. I graduated as a doctor in 1999," Dr O'Mara says.
"I like to think the transition from fitter to doctor is not so strange. After all, you are still just fixing things – but people are so much more interesting, and complex."
Today, he holds a number of key jobs all working towards the aim of improving the health of Indigenous Australians. He is president of the Australian Indigenous Doctors Association (AIDA), the nation's peak body for Indigenous doctors and medical students. He is also an Associate Professor at the University of Newcastle, NSW.
"I look after Indigenous Health for the University of Newcastle and it's a great job. I am so proud of all our students and we have a generation of doctors coming through that are incredibly deadly," he told the Sydney Opera House audience.
As a teacher his aim is to support Indigenous students to become the best doctors. "It's these things that will contribute to closing the gap," he said.
In 2009, Dr O'Mara was elected as president of AIDA. It's an organisation with a vision to create a more healthy Indigenous population.
"It's an incredible organisation and our members are passionate people who are going to make, and are making, a huge difference to our regional health. Even our non-Indigenous members are people who are just passionate about making changes to Aboriginal and Torres Strait Islander Health in this country," he said.
The Deadly Awards were held at the Sydney Opera House on 27 September 2010. For a full list of winners in all categories, including the Deadly Community Awards, go to www.vibe.com.au
Caption: Dr Peter O'Mara, president of the Australian Indigenous Doctors Association (AIDA) at the 2010 Deadly Awards.