Nova Peris-Kneebone is the 1997 Young Australian of the Year!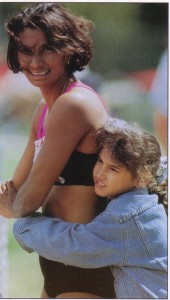 The Prime Minister Mr John Howard made the announcement in recognition of Nova's achievements throughout her career, culminating in her gold medal at the Atlanta Olympics with the Australian women's hockey team.
Her efforts and achievements have provided inspiration throughout Australia, but particularly in the Northern Territory where Nova comes from, and in Western Australia, where she first made her mark in hockey.
But no matter where you are from, whether you are young or old, living in the city or in the country Nova's story is one of pure determination and strength.
Nova was born in Darwin, and spent her childhood in the Northern Territory. She started playing hockey when she was eight years old. At the same time she was a national champion sprinter and long jumper.
At 16, Nova had to make a choice between these sports and decided to focus on hockey. She moved to Perth on a scholarship from the Australian Institute of Sport. (AIS)
"The move from Darwin to Perth was tough. I experienced racial tension for the first time, and because I was so young and I had a child so many people thought I would fail. I guess their scepticism is what really drove me to work harder to earn a place on the Australian women's hockey team." She said.
Nova has two Australian firsts under her belt. She is the first Aboriginal person to win a gold medal in the Olympic Games, and the first person from the Northern Territory to win one as well. Since 1992, she has been a regular member of the Australian Woman's Hockey Team, which, besides Olympic gold has won a World Cup Gold Medal and two Champions Trophies.
Nova is a role model for young mothers. In 1989, she became pregnant with her daughter, and she says one of her greatest achievements has been giving birth to Jessie when she was 19, and raising her while successfully pursuing her love for sport.
Nova has recently retired form hockey and has set her sights on representing Australia in athletics at the Sydney 2000 Olympics.
Congratulations from everyone at Deadly Vibe! You are the greatest!