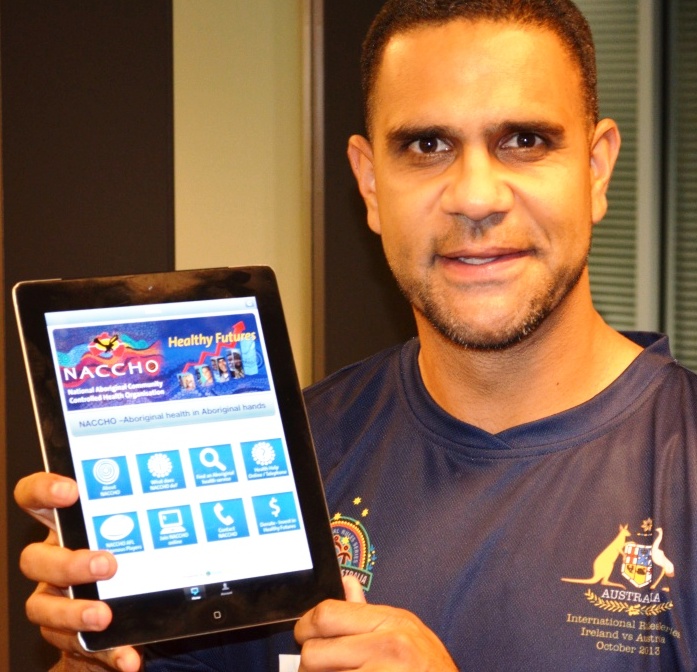 The National Aboriginal Community Controlled Health Organisation (NACCHO) released Australia's first Aboriginal Health App earlier this month joined by proud partners, the AFL's Indigenous All Stars.
The free and easy to use App aims to giveusers quick access to a number of useful services such as finding an Aboriginal Medical Service, contacting health help online or over the telephone and even lists all current AFL Indigenous players.
"The NACCHO App contains a geo locator, which will help you find the nearest Aboriginal Community Controlled Health Organisation in your area and provides health information online and telephone on a wide range of topics and where you can go to get more information or assistance should you need urgent help," says Chair of NACCHO, Justin Mohamed.
Mr Mohamed said it was fitting that the App was launched in front of the 25 fittest men in the country because the new App compliments NACCHO's Investing in Healthy Futures for Generational Change plan 2013-2030, with sport being a key factor.
"Research shows that if a young person is happy and healthy they will be able to get the most out of their education, build their confidence and their self-belief and hopefully one day become a well-educated Indigenous All-star in the sport or employment of their choosing," says Mr Mohamed.
Coach of the Indigenous All Stars, Michael O'Loughlin says the App is significant and he compliments NACCHO on the effort they put in to help Close the Gap.
"NACCHO has been around for a long time and have helped thousands and thousands of Aboriginal people and families," says Michael.
"It's great that our people can use technology to help them with whatever they need in terms of their health and wellbeing.
"It's amazing how many Indigenous people are on Facebook and other social media sites. The technology is absolutely there and provides another way to stay in contact with the mob, and lets them know what's happening in their local areas."
With sport being such a big factor in the lives of many Aboriginal and Torres Strait Islander people, Michael thinks it plays a huge role in bettering not only health outcomes but education and employment too.
"Playing sport, no matter what code that is, is important for us because we must keep on improving our life expectancies, which isn't at a very good number at the moment," Michael explains.
"Sport is a great vehicle not only for our health but for our education and employment opportunities. The top codes utilise that to help Indigenous people."
You can download the new App from the App Store for Iphone/Ipod/Ipad or through Google play for Android devices.
To find out more about the App, visit www.naccho.org.au