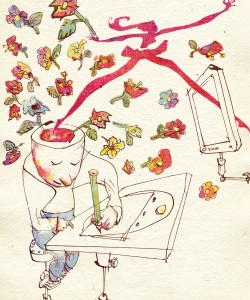 A new exhibition by the State Library of Queensland turns a range of Queensland's vibrant Aboriginal and Torres Strait Islander stories into animation.
The combination of historic content and new technology promises an interesting experience for people of all ages, with the exhibition opening next weekend and running until June 2014.
"The 'Animating Country' exhibition is about showcasing our stories from our communities and it's showcasing them through storytelling and animation," Nadine McDonald-Dowd from the State Library says.
"The uniqueness of the exhibition is that all of the stories that have been created have been created by Indigenous people for Indigenous people."
A launch will be held at the library next Saturday, December 14. Throughout the day there will be a range of activities for people to participate in including creating a personalised lantern, joining in the procession or enjoying a theatrical performance that embodies the passing of stories between cultures.
"We've brought together traditional owners and historical owners and also young people to be able to tell and share their own stories of this area because it is about honouring the area that we're exhibiting on – the Brisbane area," Nadine says.
Another highlight of the weekend will be 'Murri Christmas' which is a magical winter wonderland spent in Murri Claus' workshop, open the following day, Saturday, December 14 from 2pm.
And Sunday will be extra special with a showcase of animated films, historical features, animated shorts and student films, kicking off from 12pm.
"We've got a collection, predominately of Queensland and Australian stories, but we also have a couple of First Nation animations from Canada and through the pacific as well," Nadine says.
The concept of the exhibition has been in the works for about two years and has been primarily put together by the employees of the State Library's Indigenous exhibition team.
"We've had an Indigenous curator curate the exhibition and facilitate the workshops. We're really proud of the fact that we've had 100 per cent Indigenous employment. We're kicking goals, it's good," Nadine laughs.
Much of the exhibition is free, however bookings are required which can be done by calling 07 3840 7666 or emailing [email protected].
For more information you can visit the Queensland State Library's website.