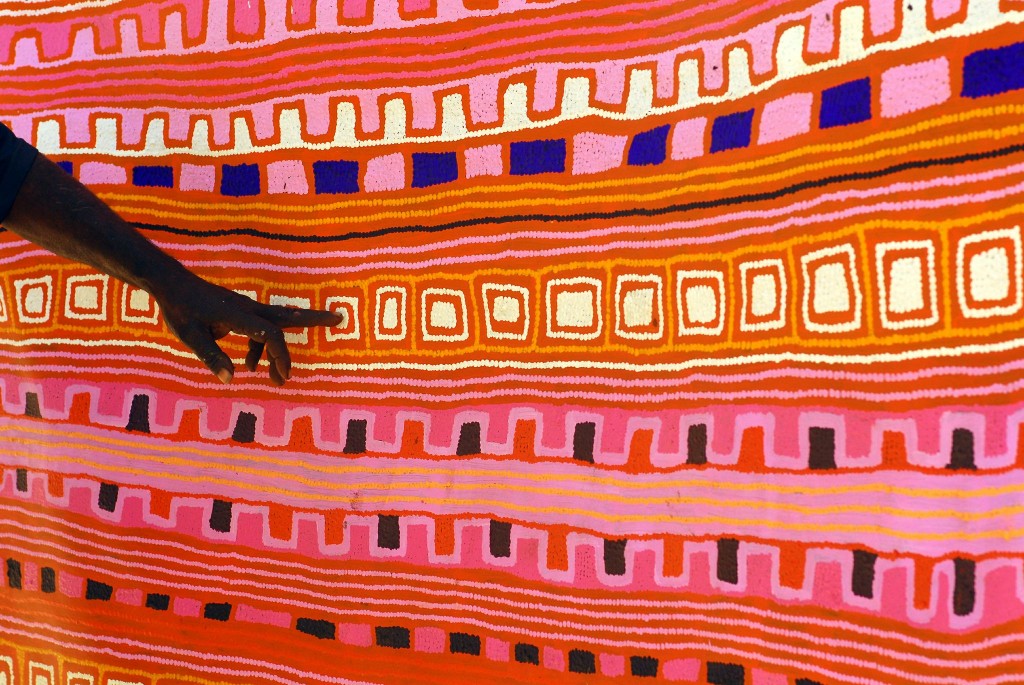 Over 100 years ago, the Canning Stock route was created.
It runs almost 2000km through desert and had an impact on the lives of more than 15 Aboriginal language groups.
In a world-first of Indigenous storytelling, the Canning Stock Route Project has combined a range of media, art and history to bring you stories from the longest historic stock route in the world.
The Perth-based and not-for-profit cultural organisation has created digital access to a vast collection of content from the multi award-winning Canning Stock Route Project.
"2006 was actually the centenary of the surveying of the Canning Stock Route and they did a celebration, but in that celebration there wasn't much acknowledgement or much focus on the Aboriginal stories of that country and of that experience of the Canning Stock Route," says Project Manager Mollie Hewitt.
"It was our organisation's idea to tell that story, and to gather people's stories on the Stock Route from an Aboriginal perspective."
The Western Desert has been populated by Aboriginal people for over 30,000 years, so it's no surprise that there are plenty of stories to be told by Elders and other people born and raised in the area.
"We kind of started originally thinking that we would involve artists and weavers and those kinds of people throughout the region and maybe just do an exhibition," Mollie says.
"But as we started to go through the country and gather people's stories we realised just how big a story it was to tell. It grew and grew and grew until we had 250 participants."
The Mira Canning Stock Route Project then turned into a large touring exhibition visiting all parts of Australia and showcasing some of the best content.
While collecting the information was an interesting journey, it's also been a long one because the project dealt with 10 arts centres and 17 communities along the way.
"Not that it's been a problem so much, but the consultation has taken a really long time. At each major step of the project we've had to go back and check with all of our communities and make sure they're happy with the kind of material that we've got from them and how we've been planning to use it," Mollie says.
"So I think we've kind of avoided a lot of problems through that process, but it certainly has made it a very lengthy one."
In Martu Wangka, Mira means 'brings the hidden into the light' so it was only fitting to name it that, as the archive creates public access to a remarkable collection of oral histories, images, videos and cultural content.
Now, almost 40,000 pieces of unique digital Indigenous cultural content are available for the iPad and iPhone through their One Road app, and the web.
The database is still in the making and due to wrap up this month, when it should have more than 10,000 videos, 300 oral histories and 20,000 images, as well as a huge range of cultural research, historical data and curated digital heritage items.
The archive will allow users to explore, either casually or in depth, the extraordinary social and cultural history of both the Canning Stock Route and the desert country it intersects.
It represents a vital resource for anyone interested in art, Australian and Indigenous history, culture and digital storytelling.
Working in conjunction with the University of California Berkeley's Centre for Digital Archaeology, has built the biggest and most accessible digital archiving project of Indigenous cultural content in the world.
Built to the highest digital archiving standards, Mira's archival quality content will be hosted on the Western Australian supercomputer system iVEC and available for access and use by the general public in accordance with licences developed in consultation with communities.
Approved commercial projects using material from the archive will return 90% of all profits to participating art centres across Australia's Western Desert. Molly says that the profit will be a nice reward for those who have put their time and energy into the project.
"Once we finish building it and once we've added in the content that we've gathered over the life of the project, we're then going to hand the archives over to community, and basically what we'll do then is hand them all the log-ins and everything and they're going to have control of it," Molly says.
The project is co-funded by the Australian Government under T-QUAL Grants and is supported by Lotterywest, the Department of Culture and the Arts, and the Australian Government's Indigenous Cultural Support Program. The Principal and Founding Partner of Ngurra Kuju Walyja – the Canning Stock Route Project is BHP Billiton.
The One Road: Canning Stock Route Project app ($1.99) is now available on iTunes.
View the web version HERE.