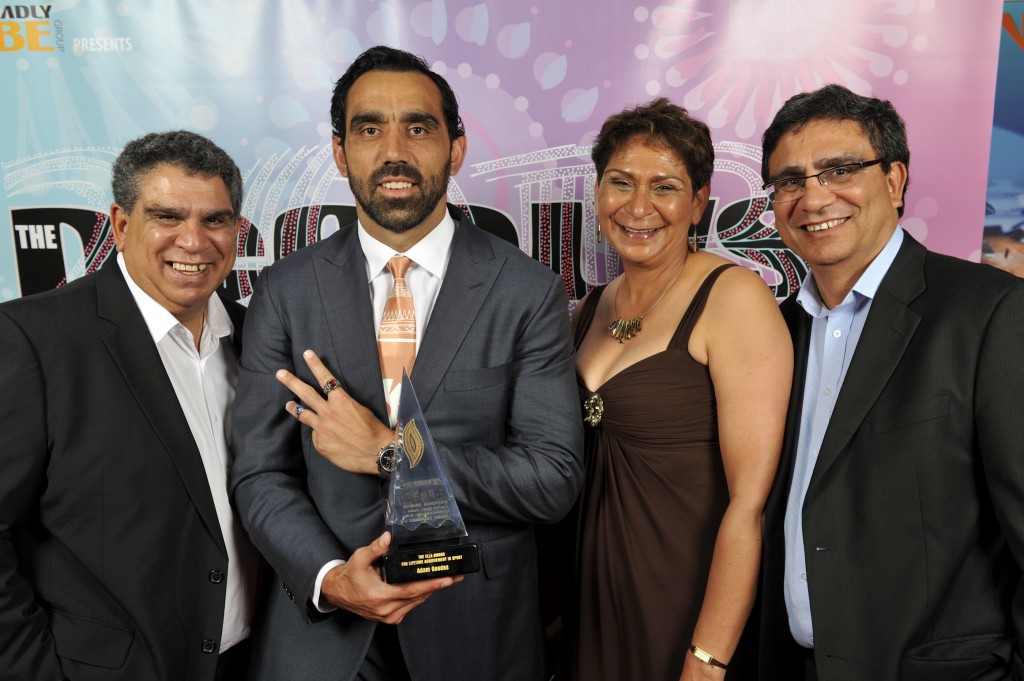 AFL dual Brownlow medallist and anti-racism campaigner Adam Goodes was honoured with the Ella Award for Lifetime Achievement in Sport at the Deadlys on Tuesday.
In front of a capacity crowd at the Sydney Opera House, the Ella family was glowing in their tributes to the Sydney Swans' star.
"The Ella Award for Lifetime Achievement in Aboriginal and Torres Strait Islander Sport recognizes excellence and achievement on and off the field – an award that marks our leaders in sport, singles them out and says you have set a national example for others to follow," Marcia Ella-Duncan said.
"An Aboriginal man that has stood up to be counted, standing tall against racism, and setting an example in the tradition of the great Nicky Winmar."
Aside from his Brownlow medals, Adam is also a record holder for his club and a player of high calibre logging 331 games and a staggering 409 goals during his 14 year career.
"He is a leader for our time, on and off the football field," Glen Ella said.
Accepting his award, Adam thanked his community saying their support helped him do his job on and off the field.
Adam Goodes was born in South Australia, later moving to Victoria where he began playing with the North Ballarat Rebels as a 16 year old in the Victorian Football League. It was here that he was scouted by the Sydney Swans, and drafted into the Sydney side in 1997.
Over his 14 year playing career, Adam has risen to great heights winning the Brownlow Medal not once but twice, in 2003 and again in 2006. He has played internationally for his country, captaining the International Rules side in its 2010 tour of Ireland.
In 2012, Adam became the Sydney Swans' games record holder, breaking the record set by good friend and former team-mate Michael O'Loughlin. That same year Adam fought back from a torn quad, to finish the year strongly and feature in the Swans' run to the Grand Final where they defeated Hawthorn.
Always a solid scorer for the Swans, Adam kicked over 35 goals for the fourth year straight in 2012.
On and off the field, Adam Goodes has earned the respect of his team-mates and AFL fans and the Aboriginal and non-Aboriginal communities. In 2013, Adam made a stand against racism during the opening game of the AFL's Indigenous Round. He is also one of the faces behind the Human Rights Commission's Racism. It Stops With Me campaign.