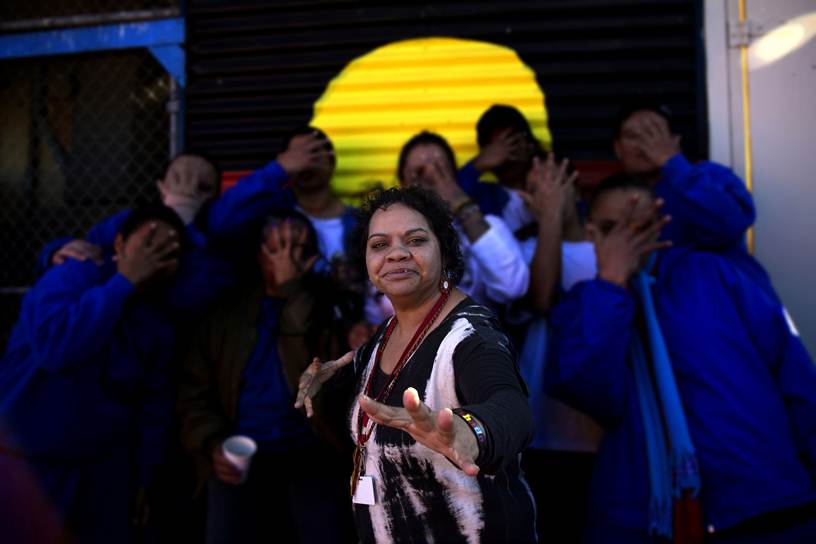 Australia's only live prison broadcasts returned for NAIDOC week featuring the voices of over 100 men, women and youths on the inside.
The show was broadcast from six Victorian prisons and heard on 3CR 855AM, 3CR Digital and streaming online and simulcast on 3KnD 1503AM.
"We've had the Stolen Generation but I also feel that we've had a lost generation with our young people and people caught up in the prison system," Broadcaster Shiralee Hood says.
Shiralee is an activist, comedian, broadcaster and Ngungar-Kurni woman. She has led the workshops and broadcasts since 2008 and first got involved because she admired the project and thought it was important for the community to hear their stories.
"I got involved because I thought that 3CR were doing such an important initiative in giving prisoners a voice for NAIDOC Week. I do think that when one person is in jail it doesn't just affect them, it affects their whole family," Shiralee says.
"I always think it's really important for the prisoner and their family's healing to hear their voice through radio."
About two months prior to NAIDOC Week, Shiralee's time is spent going from jail to jail doing pre-workshops with the prisoners to help them figure out how they'd like to express themselves on air.
"We talk about how they'd like to express their own voice, and they can do it through poetry, music, songs, spoken words or comedy," Shiralee says.
"I'm a stand-up comedian myself and comedy is a different way of thinking and expressing yourself so we offer it as a workshop."
The prisoners were excited about the project, as they don't often get an opportunity to have their stories told in their own way.
"They're really pleased that people are doing workshops from the community point of view and encouraging expression and listening to their own personal stories of how they got caught up in the system," Shiralee says.
"For a lot of them it started just with truancy and then they'd go into the juvenile prison, and then all of a sudden DOCS would get involved, and there are all these issues that are very different and unique to non-indigenous Australia."
In July last year there was almost 8,000 prisoners Australia-wide who identified as Aboriginal and Torres Strait Islander, a 4% increase from the previous year, 2011.
This year the participating prisons were Dame Phyllis Frost Centre, Barwon Prison, Fulham Corrections Centre, Loddon Prison, Port Phillip Prison and Marngoneet Correction Centre.