Yesterday, in the midst of NAIDOC celebrations, Awabakal Newcastle Aboriginal Co-operative revealed a flexible, versatile new weapon in closing the gap efforts for the Newcastle Aboriginal community and surrounds.
The Awabakal mobile clinic is, for all intents and purposes, a health clinic on wheels; equipped with a doctor, an Aboriginal health worker, a midwife, and healthy hearing specialist that symbolises self-determination and investment in a healthy future.
The clinic boasts a fully kitted hearing booth to test hearing and a clinical station fitted with a clinical bed and privacy screen. This means that holistic consultations can be carried out in the truck.
"I hope it will be received positively. I mean, for example, it allows us to be much more flexible in our service delivery. You're not relying on people to have to travel great distances to come into the main clinic; it allows us to take the clinic to community, and I think in certain communities that's a huge advantage," says CEO of Awabakal, Don MacAskill.
As well as providing much needed health care to community, the new mobile clinic will serve as a means of early intervention, targeting chronic disease and hearing disorders like Otitis Media, among the youth.
"The other benefit of having the truck is that it can work in with local schools as well so we can do a lot more early intervention work. And that's really one of the other key factors about the truck – it allows us to really target community and chronic disease at a much earlier stage," Don explains.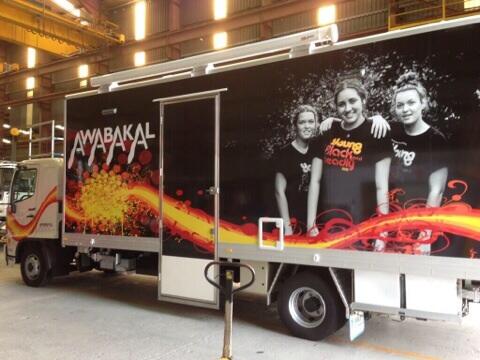 The clinic, that will operate five days a week, was unveiled at Awabakal Childcare Centre and conducted health checks on the young children.
"The reason why we've [launched the clinic at the Childcare Centre] was to illustrate some of the practical uses it has," he says. "We did that so people can get a sense of how it actually works and interacts with community."
For Don and his staff, seeing this project eight months in the making finally materialise, gives them a great sense of pride and accomplishment.
"Seeing the vision of a truck transforming into reality and being able to now have an asset which can go out into community, make a difference and really make a positive contribution to close the gap efforts, is a very proud moment, not only for me as CEO but for my board of directors as well," he says.
"We're pretty excited to see this come to fruition and we're really, really excited by the possibilities of it making a positive impact in the community."