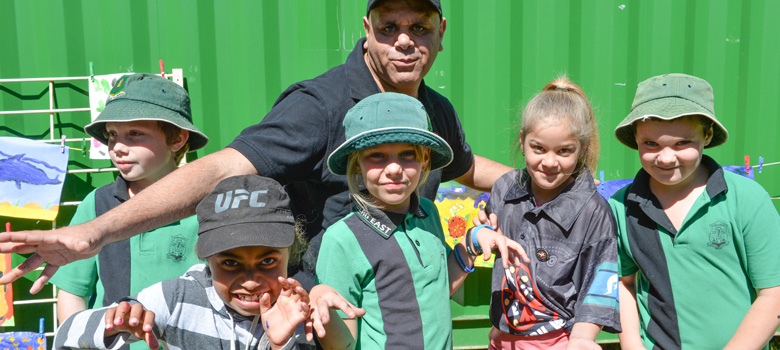 Hundreds of enthusiastic students enjoyed a day full of activities and learning how to maintain a healthy lifestyle at Bundaberg's second National Indigenous 3on3® Basketball and Hip Hop Challenge on Friday 9 August.
Students from Bundaberg and across the region participated in the Bundaberg 3on3 at WIN Stadium for a day of 3on3 basketball, rapping and break dancing lessons, art workshops, a dance competition and a health expo.
Community spirit and student participation made the day a success, event producer Mayrah Sonter says.
"It was a totally unbelievable event. Bundaberg is such a great community and our committee was so hardworking," Mayrah says.
"Seventy four teams registered for the event and we had to close registrations off a week and a half before the event. We had volunteers from the Bundaberg Bears and the Bundaberg Bulls who also took the kids through workshops on the day. The students were so well behaved and our role models went over really well with them."
Special guest role models were former Rugby 7's player Matt Sonter, rapper Dizzy Doolan, Move It Mob Style® dancers Jaymzhi White and Shari Togo, actor and MC Luke Carroll, artist and comedian Kevin Kropinyeri and DJ Songhie Tatipata.
The Welcome To Country was performed by Uncle Jason Brown and Uncle Mervyn Johnson. Cr Lynne Forgan from Bundaberg Regional Council spoke at the Opening Ceremony and presented medals to the winners on the day.
Mayrah thanked the local sponsors, which included the WIN Stadium, Woolworths, Rise Bakehouse, Kepnock High School, Zac's Meats, Impact 'Make your Mark', and the Indigenous Wellbeing Centre.
"We would like to send a big shout out to local committee for all their support as well as to all of the volunteers, students, teachers and health representatives who participated," she says.
The Vibe 3on3® would not be possible without its Principal Sponsor the Department of Health and Ageing as well as our sponsors – the Department of Regional Australia, Local Government, Arts and Sport, Headspace and Australian Government – Closing the Gap and our supporters the Jimmy Little Foundation, Koori Mail, Deadly Sounds, Deadly Vibe and vibe.com.au. For news, stories and information on Closing the Gap, visit indigenous.gov.au.