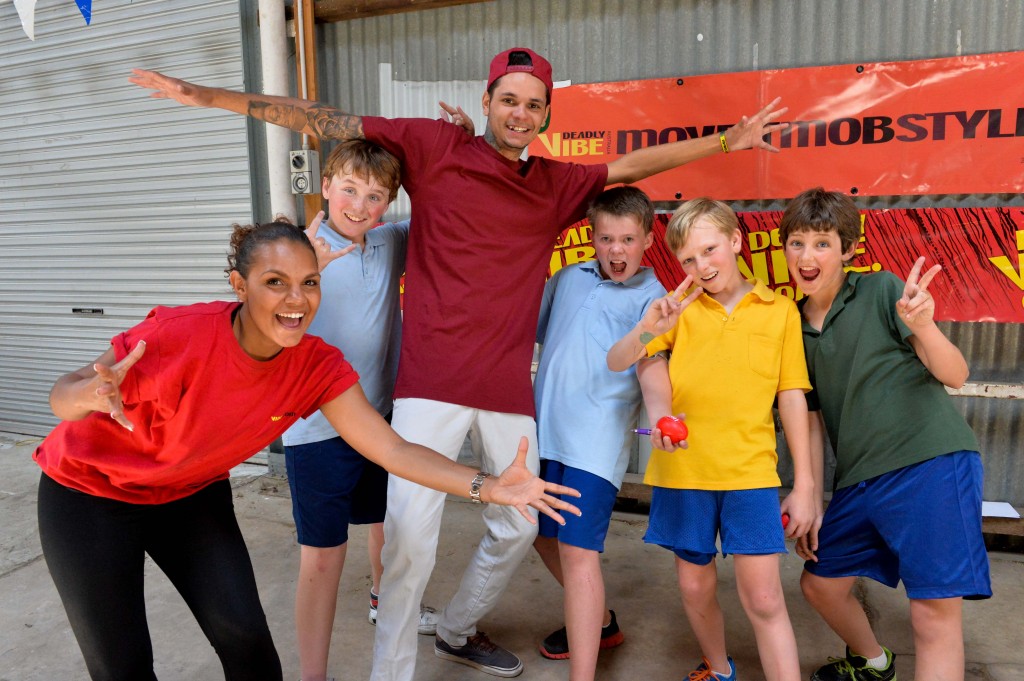 Hundreds of enthusiastic students enjoyed a day full of activities and learning how to maintain a healthy lifestyle at Goulburn's National Indigenous 3on3® Basketball and Hip Hop Challenge on Wednesday.
Students from Goulburn and across the region participated in the Goulburn Vibe 3on3® at the Goulburn Basketball Stadium for a day of 3on3 basketball, rapping and break dancing lessons, art workshops, a dance competition and a health expo.
Vibe Australia has been producing 3on3's for about 12 years now and has held around 150 events Australia wide. Managing Director of Vibe Australia, Gavin Jones says Wednesday's event was the fourth event held in Goulburn.
"It's like a mini Olympics for young people, so they get to do a bit of everything," Mr Jones says.
"Every team plays at least two games of basketball. For bonus points throughout the day they actually have to attend a dance workshop for boys and girls, a rap workshop where they learn to write a rap to a backing track. They also do an art class and other activities as well.
"We try to communicate to the students through music and through sport."
Special guest role models included Move it Mob Style® host Brothablack MC and Move it Mob Style® dancers Rarriwuy Hick and Darren Compton, as well as rapper Jimblah and singer/songwriter Marcus Corowa.
The Welcome To Country was performed by Aunty Everlyn Little, and Goulburn Mulwaree Council Mayor Geoff Kettle also welcomed students to the event. Vibe presented Aunty Everlyn, Mayor Kettle and Alfie Walker from the Aboriginal Lands Council and Goulburn Mulwaree Council with message sticks at the Opening Ceremony.
The main aim of the day is to ensure children have fun and remember to stay healthy and fit – throughout the day they are introduced to various health care providers in the region, Mr Jones says.
"What we try to give to the kids is a great day where they get the opportunity to shine no matter what their skill is," he says.
"Whether they're good at sport, or they're into their music or dance, hopefully there is a time for them to shine in front of their fellow students and their community.
"We also try to instil in the kids some very important health messages; things like not smoking, sensible drinking as well as good, strong physical and mental health, and the importance of exercise."
Vibe Australia thanks local sponsors who have got behind the event including: Heritage Country Meats, Sodexo, Chickenman and Bakers Delight, Woolworths, Eagle FM, Goulburn Post, Anglicare, Mission Australia, and Coles.
Vibe would like to acknowledge the assistance of "Supporting Communities to Reduce the Risk of Suicide" component of the "Taking Action to Tackle Suicide" Program.
The Vibe 3on3® would not be possible without its Principal Sponsor the Department of Health as well as our sponsors – the Australian Government – Closing the Gap, Headspace and our supporters the Jimmy Little Foundation the National Rural Health Students Network, Koori Mail, Deadly Sounds, Deadly Vibe, Deadly Vibe Wire and Vibe Australia. For news, stories and information on Closing the Gap, visit indigenous.gov.au.