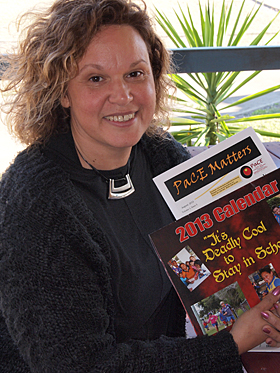 Within 24 hours of landing on the tarmac at Brisbane airport, Leah Purcell had already made the three hour drive to Cherbourg, visited relatives, spent time talking at two schools and sat for an interview.
But Leah looked fresh and revived as she left all her Sydney stress behind the moment she headed for the red soils of her home in Cherbourg.
Her visits to her home community leave her feeling grounded, as do the visits and talks she gives to local schools.
"They were hard, very quiet; a tough audience but I had them laughing toward the end," Leah says.
Leah returned home to open Murgon's new skate park on last Friday but seized the opportunity to do what she could to inspire young Murri kids.
"I tell the young here there's no reason they can't be the future mayor of Cherbourg, future headmaster of Cherbourg State School, a nurse at the Cherbourg hospital or the head of the Cherbourg police," she says.
When Leah was just 18, her mother sadly passed away. She recalls staring into the bedroom mirror and asking herself 'who are you, what are you doing?'
"Then a little voice in the back of me said 'what about your acting?' It could've been my mother talking to me, I don't know," she says.
At the time, all she could think about was putting one foot in front of the other, breathing and looking after her baby girl. Next thing she knew she was headed to Brisbane with her child to pursue the dream of earning a living from theatre.
Leah is now an acclaimed star actor, author, playwright, singer, director and producer and passes on her mother's message to the Cherbourg youth.
"It's to have a purpose in life; to look after yourself and do something for yourself. When you respect yourself and look after yourself, everything else falls into place," Leah says.
"Sometimes you don't have that support network behind you, so you have to do it for yourself. It's lonely, it's hard, you might feel rejected but when you get to where you want to be it makes it all worth it.
"You can then give back to your community."
Leah says that at the end of the day it's up to you to want to do something and to have a go.
"Boredom will follow you everywhere if you let it. Life's more than that. It's what you make of it."