Flashback to 1997 and Issue #2 of Deadly Vibe. The beautiful Leah Purcell – actor, director, writer – is on the cover minus her dreadlocks and sporting a new pixie haircut. She's acting, but she's also a well-known singer/songwriter and she's finished her autobiographical and ground-breaking play 'Box the Pony'.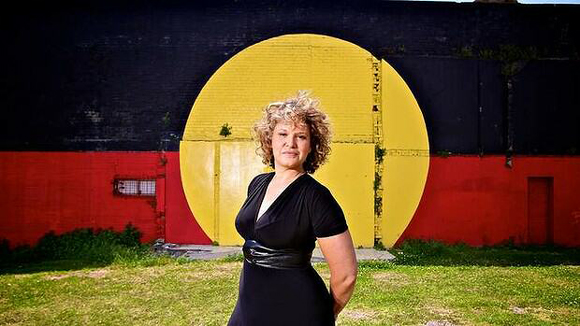 Fast forward to 2013, and Deadly Vibe is again talking to the beautiful Leah, only now she's not a rising star, she has arrived and is considered by many to be a matriarch of Australia's performing arts – a talent who's proven herself time and again and earned the right to star status.
"I was busy in 1997. I did Box the Pony, and the ABC TV drama Police Rescue; I just wanted to work, to do the thing I love. I was getting to reach so many people with our stories," she recalls. "I had dreadlocks and wore the colours. I suppose I was a bit scary back in 1997!"
Leah considers her autobiographical play Box the Pony to be the catalyst for her writing career. Although she's an accomplished lyricist with songs like "Run Daisy Run", she's now writing and directing on Redfern Now, ABC TV's hit drama that continues to rake in the national audiences.
"I'm either writing plays, TV episodes, or I'm in them now. Nothing much has changed, I still love to work," she says. "I suppose the success of Redfern Now shows how we've all skilled up over the last 20 years and earned our stripes. For me, it's nice growing older and wiser – things aren't as scary now when you've got experience behind you."
Leah is well-known for generously sharing her skills with young Aboriginal and Torres Strait Islander people, and for giving back to the community. Whether it's returning home to Murgon in Queensland where she grew up, opening a new skate park, or conducting writing and acting workshops with young people, she enjoys "giving others a helping hand". "You can give back to young people and that's very rewarding. You mature as an artist with hard work – yes talent, too – but it's nice to be able to give back," she says. "The young people coming through have got a lot of talent and I think we should be nurturing that and giving that more time and effort – supporting, yarning and directing them."
She is currently the Non-Fiction Writer in Residence at Sydney's University of Technology. Funded by the Copyright Agency's Cultural Fund, the residency is intended to promote the study, recognition and wider appreciation of high-quality non-fiction works in this country.
As a seasoned performer, Leah has achieved confidence in her work, but at the same time continues to learn about her craft. "You do have bravery in your own work, but I'm still learning and I'll continue to learn. I'm writing for Redfern Now and still learning. It can be everyday things – my scripts or my ideas. I'll think, maybe I should try a lighter version of that."
Over the years, Deadly Vibe has kept up with Leah's career and featured her as a role model for young Aboriginal and Torres Strait Islander people to look up to.
Leah remembers the early years well, and believes the magazine helped break down the negative stereotypes.
"When Deadly Vibe came out you had to stretch your neck to see who had a Deadly Vibe. From the editor's column to the health tips, I loved it all. You had young people writing in, the footy heroes, the musicians, community announcement… there was something for everyone," she says. "There was nothing much about us in the mainstream, apart from a few stories about Deb Mailman. It was and is great to see the black faces and the diversity of talent in Deadly Vibe. I'd go into a doctor's surgery and pick up the magazine, and everybody was reading it. "Mob forgets we have so much potential to be deadly and we are allowed to promote our successes. I think you've got to support the front runners, too, because they take the knocks."
Leah is also a natural storyteller and she has just submitted a feature film Netball to Screen Australia about a rural Aboriginal netball team. There's more directing and co-writing coming up in the future. "I want to keep doing what I'm doing, but I also want to direct in the US and London and for mainstream TV. There's no rest for the wicked," she says. "And I still want to do my music – perhaps perform at a NAIDOC festival and release an album down the track. I still have that dream. "Thanks to Gavin Jones [founder of ] for having the dream to create Deadly Vibe magazine."